TJM's Speed Dating Event in NYC on Sep 23rd 2017
Events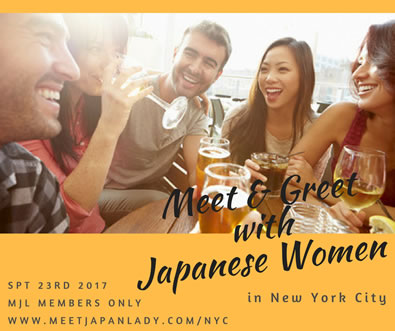 TJM's Speed Dating Event in NYC on Sep 23rd 2017
TJM will host its Speed Dating Event in NYC on Sept. 23rd 2017.
Click to reserve your seat.

Most of our female participants live in NYC or NJ. They are sincerely looking for lifelong partners.
I go to NYC for Free Consultations every month. Many Japanese women who live there tell me,
"Dating someone in NYC is not that difficult. However, it is difficult to know if he is really marriage minded."
I agree.
Easy to meet means easy to break up. If you can meet one new woman after another, you may expect to meet a more beautiful and sophisticated Japanese woman on your next date. As a result, you may miss the best partner for you since you are giving the most importance to the outward appearance of your dates. So, you may meet nice women and not consider them adequately if they are not the most beautiful. And, it may take you a long time to get married or you may never get married.
From our experience we have found that there are many single men who are over 50 years old who have never been married. This is the result of just dating based on the appearance of women.
We as a matchmaker would like to support men to meet Japanese women who are sincerely looking for a lifelong partner. We would like to encourage gentlemen in NYC to stop just dating, and instead to concentrate on meeting Japanese women who want to be happily married.
Our Speed Dating Event in NYC is one of the greatest places for men and women to meet whose purpose is marriage. This is not only for men and women who live in NYC or NJ, but also men all over the world who want to get married. One of our male members who lives on the West coast, joined our event last time and met a wonderful Japanese woman in NYC. And, they have gotten along well ever since.
We hope many gentlemen all over the world will join our Speed Dating Event in NYC!
We have been working as professional Japanese matchmakers for 18 years. We look forward to assisting you in finding your Japanese wife. Please click below to make an appointment for a Free Skype consultation if you are truly interested. We are happy to make an appointment with you after you have created your own profile.
https://meetjapanlady.com/company.html
Join us at our next event on Sun July 2nd 2017 in Japan.
Pre-Registration
http://beret-ex.jp/fx/18
Naoko Matsumoto
Creating Happy Couples for 18 years