Are You Missing Lots of Opportunities to Meet Nice Japanese Women?
Blog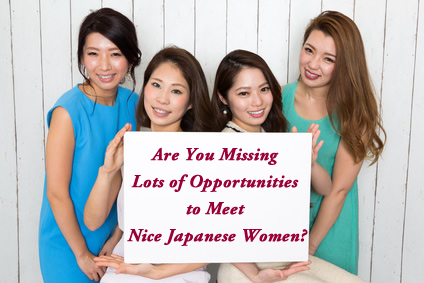 Are You Missing Lots of Opportunities to Meet Nice Japanese Women?
As we shared in our previous blog, many happy couples are being born all the time. I always ask them,
"Was he/she exactly the ideal one whom you have been looking for?"
Often they answer,
"Not at all."
It doesn't mean that they are not happy. They are happy. But at the end of the love search journey, they realized that "my ideal' was an illusion.
What is "my ideal"?
Usually for men, "my ideal" is based on a "good looking" woman.  They are trying to choose young and beautiful photogenic Japanese women who look like a model. This is a natural instinct for most men. You deserve to choose the best one for you. However, realistically, photos do not tell everything.
As an experienced matchmaker, I have interviewed thousands of Japanese women for 18 years. Some women are very photogenic, yet some are not.  But looks is not the whole story. We recommend that you meet as many women as possible in order to learn who the best is for you. Actually, you will never know one's personality or real outer and inner beauty until you meet with her in person, talk with her over a cup of tea, and spend time with her over several days. If you are too picky and decline women who are selected for you by a matchmaker, you may lose your best opportunities for meeting nice women who are your best matches. Consider these points about our female members' profile photos.
Photogenic women often are not kind and friendly.

Less photogenic women may be more beautiful in person.

Less photogenic women often have a kind and friendly personality that is often more important than looks.
A few months ago, we setup two meetings for a male member. There were four candidates for him. Two of them were the women he wanted to meet. The other two were ones whom we selected. He simply decided to meet two photogenic women whom he likes. He declined the two women we recommended since they were less photogenic. He said,
"They are not my type."  
After his two meetings, he didn't continue with the two women he chose. Both he and the two women didn't feel chemistry.
After that he decided to listen to his matchmaker, and started to communicate with a woman the matchmaker recommended, and now he is happier since he likes her and they are communicating VERY WELL. I believe that we will hear good news from them soon!
This happens all the time, and we don't want your high ideals to prevent you from meeting wonderful Japanese women. Listening to the voice of your Matchmaker may open the door for you if your standards have been too high and you have not had any success in meeting someone for years.
We have been working as professional Japanese matchmakers since 1999. We look forward to assisting you in finding your Japanese wife. Please click below to make an appointment for a Free Online consultation if you are truly interested. We are happy to make an appointment with you after you have created your own profile.
Also, you are most welcome to join our event in NYC on Sun July 2nd 2017 in Japan.
See you in Tokyo!
Naoko Matsumoto
Founder & CEO of Traditional Japanese Matchmaker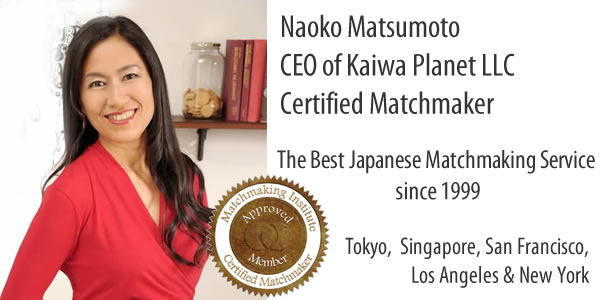 Traditional Japanese Matchmaker is the best dating and matchmaking service in Japan that is specialized for single professionals and Japanese women established in 1999. Please click the link below to sign up for TJM's Free Registration if you are truly interested. We look forward to assisting you in finding your Japanese wife.
Naoko Matsumoto
CEO and Your Personal Matchmaker
Traditional Japanese Matchmaker