Have Fun Learning Japanese by Singing Karaoke!
Blog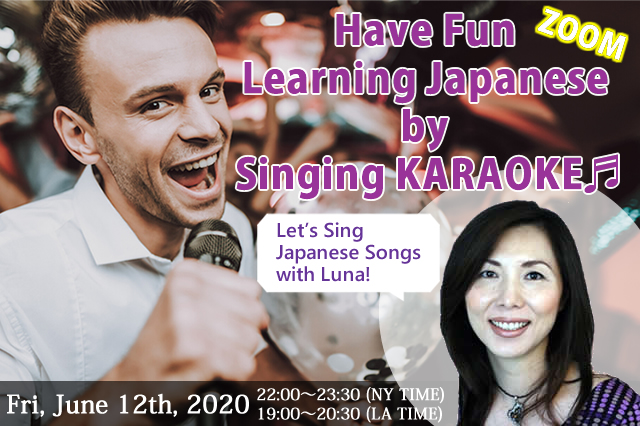 Have Fun Learning Japanese by Singing Karaoke!
We will host a new online event titled, "Have Fun Learning Japanese by Singing Karaoke", on Fri June 12th, 2020 at 22:00 (NY TIME), 19:00 (LA TIME).
This is a fun event for anyone who wants to learn some of the Japanese language by singing Karaoke songs in Japanese. Both members and nonmembers are welcome, both Japanese beginners and experts are welcome, both great singers and terrible singers are welcome, and anyone in between! Everyone just come and join our event. Relax and have fun!
We chose simple songs at this time. You can learn a lot of Japanese vocabulary and how to use it. It doesn't matter how good you are. Just relax and enjoy learning Japanese by singing Karaoke.
One of our matchmakers, Luna Watanabe, will teach you how to sing Japanese songs. Please click the following link to read Luna's bio.
Luna graduated from KEIO University in TOKYO and her major was Business. She also studied jazz vocals at USC. She completed a unique and very talented career path in Japan and the US.
She used to be a professional Jazz musician before getting married. This is a great opportunity to learn Karaoke with a music expert.
Have Fun Learning Japanese by Singing Karaoke!
Date and Time: Fri, June 12th, 2020
at 22:00 to 23:30 (NY time),
at 19:00 to 20:30 (California time),
at 16:00 to 17:30 (Hawaii time).
The Number of Participants:
6 (Your spot will be reserved on a first-come-first served basis )
Fee:
$25: TJM's Full Members
$35: TJM's Profile Members
$55:  TJM's Non Member
Cancel Policy:
100 % refund: Before May 31st at 23:59 (EST)
0 % refund: After June 1st at 0:00 (EST)
Let's have fun staying home for a while and prepare for a time to meet and talk to your future Japanese wife!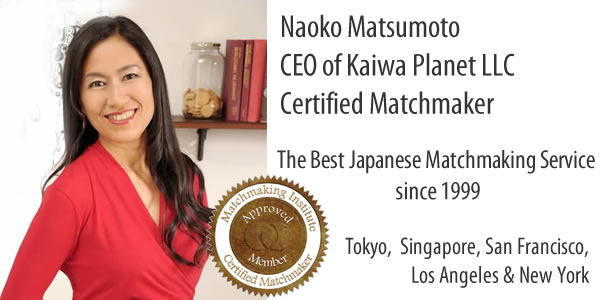 Traditional Japanese Matchmaker is the best dating and matchmaking service in Japan that is specialized for single professionals and Japanese women established in 1999. Please click the link below to sign up for TJM's Free Registration if you are truly interested. We look forward to assisting you in finding your Japanese wife.
Naoko Matsumoto
CEO and Your Personal Matchmaker
Traditional Japanese Matchmaker