How to Understand Japanese Women: Imago Method
Events
How to Understand Japanese Women: Imago Method
My friend Satomi and her husband Greg who live in NJ are going to host a workshop for International Couples in NYC on Dec. 9th 2018.
Satomi is a Japanese woman and she is a Certified Imago Professional Facilitator. Greg is an American and he is a Certified Imago Therapist. Satomi and Greg followed Imago Method when they had issues in their relationship, which method allowed them to create a peaceful and supportive relationship. Imago method is very good for helping international couples learn how to live harmoniously. By following Imago method they found out how to understand each other and so now they are VERY HAPPY being together. Some of you may have met Satomi since she recently attended our Speed Dating in NJ as a guest speaker.
Imago Method workshop is for you if one of these situations applies to you:

You are in an international relationship or marriage.
You are starting a new relationship and want to build a solid foundation.
You are in a good relationship and want to make it even better.
You are struggling in a relationship and want to resolve conflicts.
In this workshop, you will learn the basics of the Imago Method which will explain why you chose your partner, the true purpose of a committed relationship, and why you go through what you are going through. You will also learn a new and effective way to communicate with each other and how to resolve conflicts with empathy and affection.
This workshop is led by Satomi Ohama, Imago professional Facilitator, and Gregory Koufacos, Imago Therapist. They are a Japanese and American married couple who have created a harmonious relationship by practicing Imago Relationship Therapy.
Workshop in NYC (near Union Square)
Sunday, December 9th, 2018
10am-12:30pm
Workshop in Glen Ridge, NJ
Sunday January 20th, 2019
1pm – 3:30pm
Cost: $100 per couple ($50 per person)
Only 8 seats available at either location.
Childcare available!
For More Information & Registration:
https://bit.ly/2S0vSny    (English)
https://bit.ly/2R2IRow   (Japanese)
In the near future we will also have a webinar with Satomi and her husband, so stay tuned!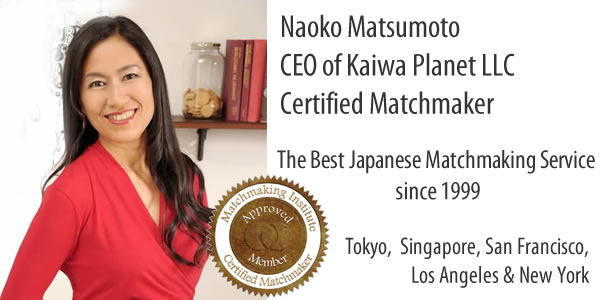 Dating and Matchmaking Service for Single Professionals and Japanese Women Established in 1999
We have been working as professional Japanese matchmakers for 18 years. We look forward to assisting you in finding your Japanese wife. Please click below to make an appointment for a Free Skype consultation if you are truly interested. We are happy to make an appointment with you after you have created your own profile. https://meetjapanlady.com/company.html

Naoko Matsumoto
CEO and Your Personal Matchmaker
Traditional Japanese Matchmaker