If You Decline, Set Her Free
Tips for Men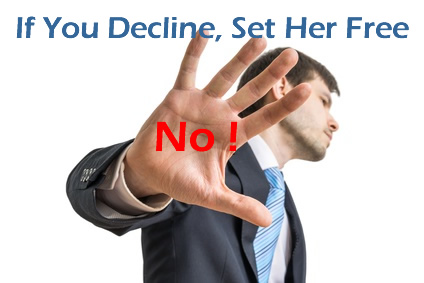 If You Decline, Set Her Free
Often after their first meeting with a female member, some men think that there was no chemistry and they think to themselves that they are not really interested in meeting here again. This may be considered normal since it is not very often that we meet someone we can love.
Besides, it is a miracle for anyone to find exactly your ideal woman at just the first meeting.
When you didn't feel chemistry at your first meeting, many men decline to say,
"Well, she is OK as a friend"
and they do not clearly say "decline".
We understand that men may not want to hurt her feelings with the strong word "decline". However, if a Japanese woman is told that she is OK as a friend, she may be expecting you to change your mind in the future and may be waiting for you to want to be her partner in the near future.
As a result of that, time goes by quickly, and very often men do not change their mind, and a woman gets older, and since she is waiting for you, she may lose her opportunity to meet other men.
That is why, clearly giving her your answer of "NO" is much nicer for her than just keeping in touch with her as a friend even though you are not interested in her as a marriage partner. Your "NO" will encourage her to meet other men, which helps everyone involved in the long run.
Saying your clear and truthful answer of "NO" is the kindest answer for our female members and better for our male members. This way our male and female members will make quick decisions that will allow them to go ahead and find the right person.
We have been working as professional Japanese matchmakers for 18 years. We look forward to assisting you in finding your Japanese wife. Please click below to make an appointment for a Free Skype consultation if you are truly interested. We are happy to make an appointment with you after you have created your own profile.
https://meetjapanlady.com/company.html
Join us at our next event on Sun July 2nd 2017 in Japan.
Pre-Registration
http://beret-ex.jp/fx/18
Naoko Matsumoto
Creating Happy Couples for 18 years