Our Online Coffee Meeting with Japanese Women was Fun!
Blog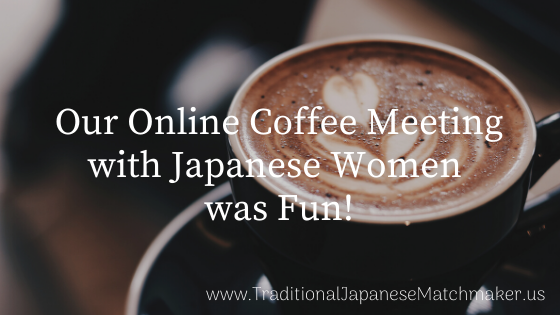 Our Online Coffee Meeting with Japanese Women was Fun!
We hosted our Online Coffee Meeting Last Saturday.
It was a fun event and everyone who attended the meeting had a nice time! We thank all of our participants who are from Toronto, San Francisco, Hokkaido, Tokyo, Kyoto. Also, special thanks to Luna in Minnesota!
The benefits of attending our Online Coffee Meeting with Japanese Women are as follows.
The benefits of attending our Online Coffee Meeting
A Good Number of Participants
Meaningful Topics
Matchmakers Support
Less Stress
Discovering the Beauty of Japanese Women
Good Number of Participants
At our meeting, we had a table for 8. This means we had 4 men and 4 women. It was not too many or not too few. It was a perfect number of participants to discuss and everyone had an opportunity to talk.
Meaningful Topics
We brought up some meaningful topics in advance. They were not political and they were good, positive topics for men and women who have different cultural backgrounds to discuss.
Matchmakers Support
Some Japanese women say that they are not good at talking in English. At our meeting, matchmakers also attended and supported their conversations in English. So, they were more comfortable and able to converse freely.
Less Stress
Some men and women feel so nervous at their first one on one meeting. In their feedback, we often hear, "I wish I could….". At our group meeting, all of the participants relaxed and they just enjoyed talking.
Discovering the Beauty of Japanese Women
Although Our Coffee Meeting is not a speed dating event, you can discover how beautiful Japanese women are when meeting them in person on ZOOM. This often happens, but men tend to select women by just looking at the photos on their profile. Unfortunately, many male members decline women if the quality of their photo is poor. We always recommend to our male members that it is best for them to meet in person with our female members on ZOOM first. If you trust our matchmakers, you will increase the opportunities to meet real Japanese beauty.
We would like to share some feedback from our members. Thank you very much!
Dear Naoko san, Luna san and Juri san,
I just wanted to give you a little bit of positive feedback about the zoom meeting yesterday.
For me, it was a great experience! So I want to thank you very much. Too bad you were not available for it Juri san!  I think it was a great opportunity to get to know the other members in a very casual environment.  And I like how you had topics for us to talk about.
(J in San Francisco)
Hello, Naoko san,
Thank you for your mail and I appreciate your time.  First, it was great to see you and talk to you on Coffee meet Event. I enjoyed all the participants. views and suggestions.
(N in Toronto)
Dear Team Kaiwa,
Thank you very much for the opportunity to talk with the members. It was really nice and I was surprised how time flies during the meeting! Each member (male and female) is uniquely nice. I wish we could have more time to talk with them! Hope I can join again when you have a coffee break or online gathering in the future.
Best Regards,
(H in Kyoto)
Next month, we are planning to host a special event called "Karaoke De Nihongo". If you want to learn Japanese by singing Karaoke, it will be a great opportunity for you.  Luna is a professional Jazz singer, and she is going to teach Japanese and Karaoke. Both members and nonmembers are welcome to join us!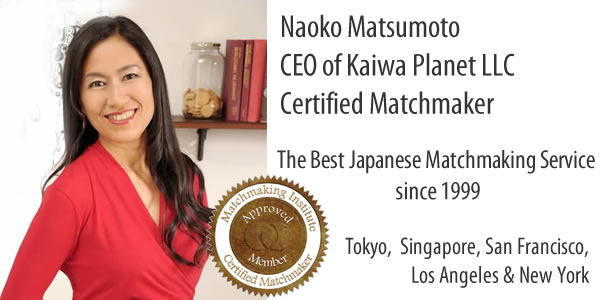 Traditional Japanese Matchmaker is the best dating and matchmaking service in Japan that is specialized for single professionals and Japanese women established in 1999. Please click the link below to sign up for TJM's Free Registration if you are truly interested. We look forward to assisting you in finding your Japanese wife.
Naoko Matsumoto
CEO and Your Personal Matchmaker
Traditional Japanese Matchmaker