Sneak Peak, Our New Name will be "Traditional Japanese Matchmaker"
Announcement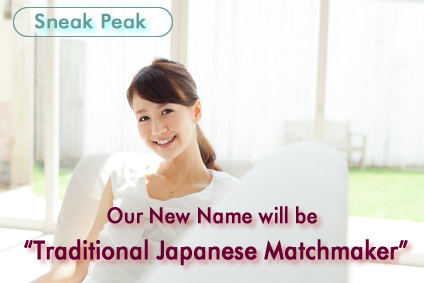 Sneak Peak, Our New Name will be "Traditional Japanese Matchmaker"
During our search for a new name for our business, we received lots of feedback. We wanted to have a name that better represents our business of being a matchmaker. We have finally chosen a new name.
It is,
Traditional Japanese Matchmaker.
This new name was named by one of my friend, Susan Hughes in Baltimore, and we really like it.
Thank you very much Susan! And, thank you to everyone who gave us suggestions!!!
We are now working on updating our website with the new name. Hopefully, our new website will be released very soon!
Many single men get used to online dating websites and believe that they can find perfect women easily. So, many people waste their time searching for the right person from millions of candidates, which is actually a hard job, and seldom yields results.
Fortunately, more and more people who are tired of online dating websites become our clients since they want to meet women who are screened by reliable matchmakers.
A matchmaker is not just a person who introduces people, but a person who is like a personal trainer at your sports gym. Working out with a personal trainer is the shortest way to get your ideal body. They give you a certain program, advice, and encouragement to propel you toward your goal. On the other hand, if you work out by yourself without any professional advice, it may be harder for you to reach your goal.
The new name "Traditional Japanese Matchmaker" tells you that we follow the traditional craft of matchmaking in order to best support single professional men who want to marry beautiful and sophisticated Japanese women. Our service is very unique in the world! And, I am very proud of our new name!
We have been working as professional Japanese matchmakers for 18 years. We look forward to assisting you in finding your Japanese wife. Please click below to make an appointment for a Free Skype consultation if you are truly interested. We are happy to make an appointment with you after you have created your own profile.
https://meetjapanlady.com/company.html
Join us at our next event on Sun July 2nd 2017 in Japan.
Pre-Registration
http://beret-ex.jp/fx/18
Naoko Matsumoto
Creating Happy Couples for 18 years