Speed Dating with Japanese Women & BBQ Party in NYC/NJ on Sep 13th & 14th in 2014
Blog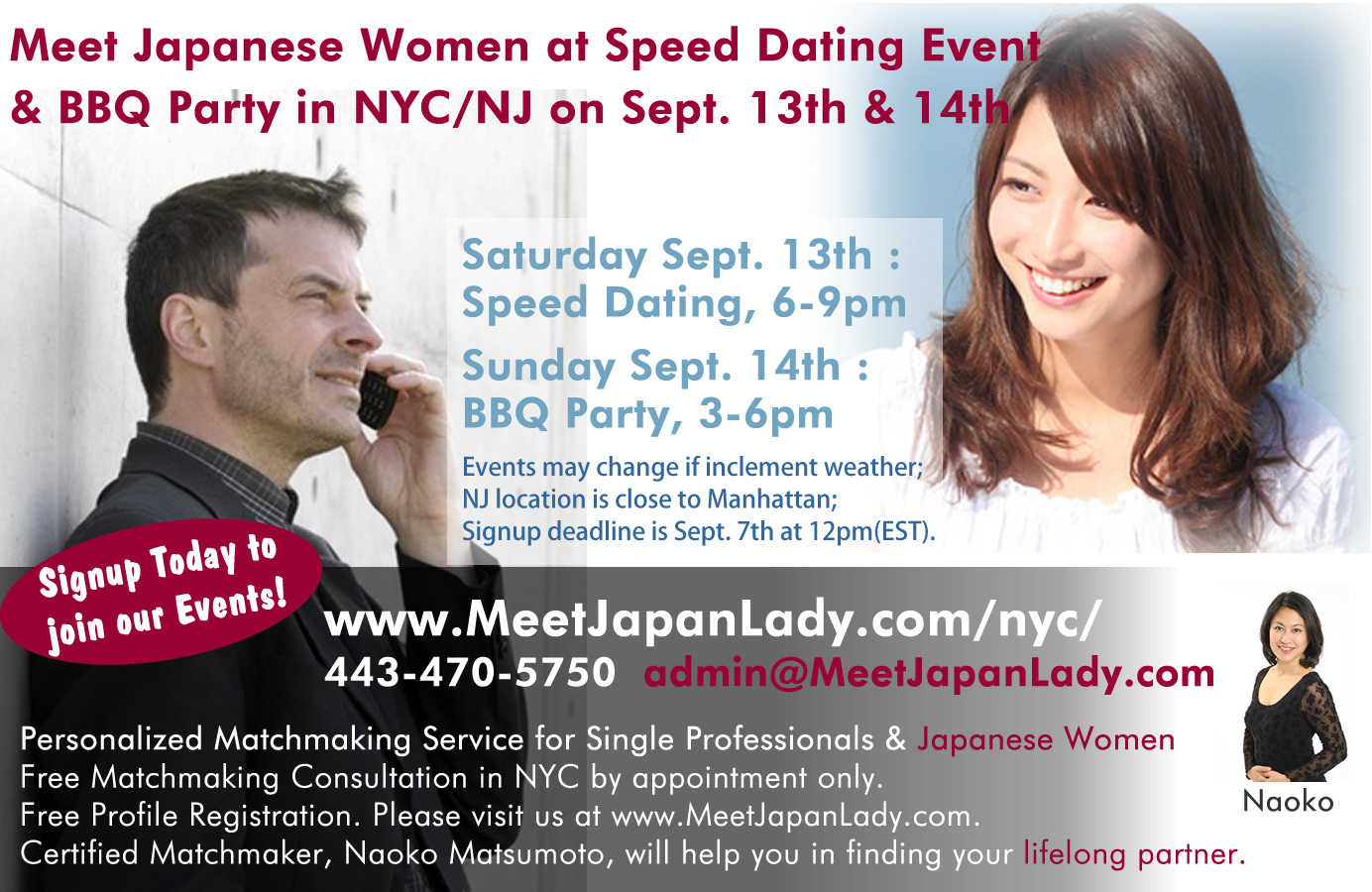 Speed Dating with Japanese Women & BBQ Party in NYC/NJ on Sep 13th & 14th in 2014
We would like to announce one of TJM's biggest events in 2014 taking place in NYC.
Our male clients live around the world, and perhaps some of your male friends who live near NYC will be interested in meeting single Japanese women. So, would you please let them know about TJM's events? We thank you!
Or, if you are unable to attend TJM's events this year, but you are thinking about joining our events next year, it might be great for you to learn about TJM's events this year to help you prepare for next year.
And, if you live on the West coast, meeting Japanese women in NY is much easier than meeting Japanese women in Japan since NY is much closer than Japan. So, it is a great opportunity for TJM's male members in California to join our NY events!
If you are NOT interested in our events, please disregard.
Here are the details and application form for TJM's Special Events on Sept 13 and 14, 2014.
http://MeetJapanLady.com/nyc/
※This event was completed.
★ 
Here is the outline of our events:
Speed Dating Event:
Sept. 13th in NYC.
Time: 6-9pm
BBQ Party:
Sept. 14th in NJ
Time: 3-6pm
Events may change if there is inclement weather, so please read the final confirmation email that will be sent to you around Sept. 10th for any updates.
You can join both Sept. 13th and 14th's events, or you can choose one of those events.
【What is Speed Dating?】
If you are not familiar with Speed Dating, here is a helpful article. This article is about TJM's Speed Dating Event held in Singapore in Dec 2013.
http://meetamericanmen.blogspot.com/2013/12/mjls-speed-dating-event-in-singapore-on.html
At the Speed Dating Event, food is NOT included.
You will need to keep talking with Japanese women like a machine gun for more than an hour. So you don't have time to eat. Actually, you will feel that time flies during the speed dating event.
So, we highly recommend that you eat dinner well before the speed dating event starts.
It is best to be well rested and well fed since this event requires energy and stamina to complete.
【BBQ Party in NJ on Sept. 14th】
The event location is TBD. However, the event will be held in the Jersey City or Edge Water area which is a quick trip from Manhattan.
If you have any suggestions of venues for the BBQ Party, please let us know!
The details of BBQ Party may change in case of inclement weather since this event takes place outside. In case of rain, we will have an indoor potluck party instead. We will send you the final confirmation email around Sept. 10th. Please check your email. (Please check your spam mail box just in case.)
The purpose of TJM's BBQ Party is NOT to get a full stomach. Rather, it is an opportunity to meet and get to know some Japanese women in a casual atmosphere.
Most of all, we hope that you enjoy talking to everyone and have fun at the party!
Also, please find Naoko and Luna and introduce yourself! We are the ones who interview our female members on Skype. If we meet with you in person, and get to better understand your needs, it will be easier for us to introduce a wonderful woman to you.
In addition to TJM's NY event, we host a couple of events a year. We will have an event in TOKYO in July, and about 15-20 female members will attend.
Also, we are thinking about having regular events in Singapore and Los Angeles. If we have the opportunity to meet with you in person at one of our events, we can better understand you and your needs which will give you better results. This means that the relationship between you and your matchmaker is also very important. The better we understand you, the more we can help you to find your ideal partner. Expecting a quick result is not realistic and will not lead to a beneficial relationship in the long term.
A harmonious relationship with your matchmaker is your key to success!
Here are the details and application form for TJM's Special Events on Sept 13 and 14, 2014.
http://MeetJapanLady.com/nyc/
I am looking forward to meeting with you very soon!
Naoko Matsumoto: CEO of TJL and certified Personal Matchmaker
PS
Save Money by bringing your friend to TJM's events!!!
【Save Money! Introduce Your Friend and Get a $10 Discount!】
If you have friends who are single professionals and interested in Japanese women please invite them to TJM's NY events and you will receive a $10 discount.
We will send you $10 after the event if the participants fill out your Full Name as referring them to the events at the top of their application form.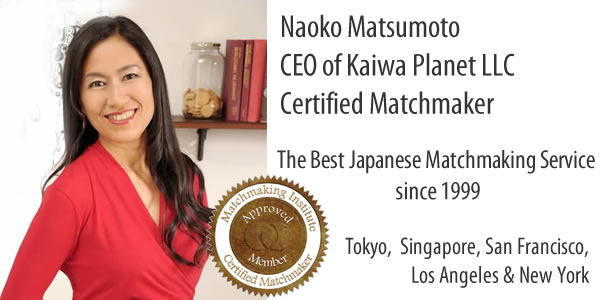 Traditional Japanese Matchmaker is the best dating and matchmaking service in Japan that is specialized for single professionals and Japanese women established in 1999. Please click the link below to sign up for TJM's Free Registration if you are truly interested. We look forward to assisting you in finding your Japanese wife.
Naoko Matsumoto
CEO and Your Personal Matchmaker
Traditional Japanese Matchmaker