Things You Should Do Before Inviting Her to Your Place
Tips for Men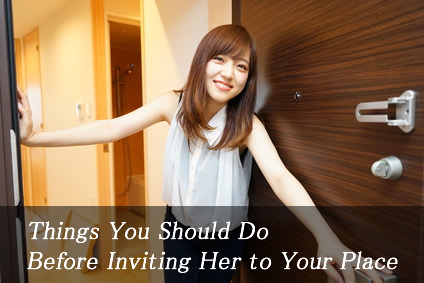 Things You Should Do Before Inviting Her to Your Place
If you and your date feel good chemistry on your first date, you may want to invite her to your place. Sounds exciting? In order for her to feel comfortable, we recommend that you prepare for such a scenario well in advance. Here are our recommendations:
Prepare a New Pillowcase
Throw Away Your Previous Girlfriend's Belongings
Make a Space for Her in Your House
Prepare a New Pillowcase
When she visits you for the first time, do you expect her to sleep in your bed? If so, you will need to think about preparing a new pillowcase. Usually, single men don't care about their own bed linens. How long have you used the pillowcase you are using now? Does it look shabby?  She doesn't want to use the old pillowcase which someone else used before. She does not imagine that you were with someone besides her. She will feel very happy when she sees a new pillowcase that you prepared especially for her on your bed. She will feel that you care very much about her. It is a small investment for you to make her feel very happy.
Throw Away Everything of Your Previous Girlfriend's Belongings
When your new date finds something of your previous girlfriend, she will feel very sad. Look around your place to see if there are any belongings from your previous girlfriend, such as shoes, clothes, cosmetics, jewelry, perfume, photos with you, and photos on your computer or smart phone. It may be your precious memories, but not for your new date. Your new date will not want to see anything from your previous girlfriend, so throw all of her belongings away and delete her photos.
Make a Space for Her in Your House
It is a great idea to make space for your new date. This really shows her that you want her to be in your life. Have you set aside space in the closet for her? Do you have an extra drawer in your chest for her? If you have an extra room, you can say "You may use this room as your own private room." When you do so, your new date will be able to visualize starting a new life together with you. This act helps you to proceed to the next stage of the relationship with her.
Some of our clients' stories:
One of our male clients purchased a wooden step for his kitchen before her visit because he knew that the average Japanese woman is shorter than the average American woman and the standard kitchen in the US is designed for American women.  As soon as she visited him, she was so impressed and appreciated his care. They decided to get married soon after her visit, and they are live happily together.
In another story, a male client shared an apartment with a female roommate. In Japan, people cannot believe that one can share an apartment with the opposite sex without having an intimate relationship. I explained this fact to him in a nice way since he didn't have success with his first introduction. His first introduction mentioned that he had a woman at his apartment and she could not trust him! Although he has to pay higher rent, he decided to live without a roommate. After that decision, he met a new woman and got married.
Preparing for her visit is very important. If you have been single for a long time, look around your place and think if your new date would feel comfortable when she visits you. If your place makes her feel happy, that would be a good sign to move forward to the next relationship level.
Naoko Matsumoto: CEO and Your Personal Matchmaker