Japanese Women Love to Cook Japanese Food Daily: Are You Ready to Learn About and Teach Each Other New Foods?
Blog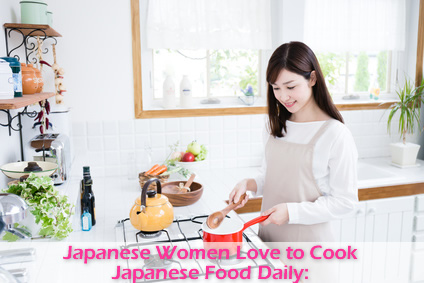 Japanese Women Love to Cook Japanese Food Daily: Are You Ready to Learn About and Teach Each Other New Foods?
As it is very cold, I decided to cook HOTO. HOTO is a delicious local (Yamanashi Prefecture) cuisine in Japan that consists of flat noodles like Fettuccine in Italy with lots of winter vegetables such as daikon (white radish), kabocha (squash), naganegi (leeks), potatoes, carrots, and more vegetables that is flavored with miso and/or soy source. HOTO makes you warm and gives you nutrition. (This is the image of HOTO. https://bit.ly/2CrUzBN )
I wanted to introduce Japanese food to my family because Japanese food is not only sushi or tempura, but there are also many delicious Japanese foods that may not be known to everyone in the US. One day, I started to cook HOTO for dinner. After I almost finished cooking HOTO, and while I left the big pot on the stove, my husband put some western herbs and seasonings such as curry, tarragon, coriander, thyme, pink Himalayan salt, and others into the pot.
When I got back to the kitchen, something that I didn't expect was cooked by my husband! It didn't seem like HOTO. I was so shocked but I understood that my husband wanted to help me. Thank you! Although, I wish that we had Japanese HOTO to eat, it was still good and we all enjoyed a creative, exotic and fusion cuisine that was invented by chance by my husband and me.
During the winter holidays, there are opportunities to cook Thanksgiving dinner and Christmas dinner. In Japan, we have a special New Year's dish called Osechi Ryori.  Osechi Ryori is a traditional Japanese New Year's dish that is served in beautiful boxes. It is usually prepared before New Year and eaten during the first three days of the New Year Holiday. So, moms do not have to work and can take days off in order to cook for their families. Many of my female friends who have relocated to the US after getting married tried to make Osechi Ryori for the New Year holiday. They want to keep their Japanese food culture alive even though they live outside of Japan.  Of course, Osechi Ryori is mostly seasoned with soy source.
Likewise, Japanese women love to make Japanese food that is seasoned primarily with miso and soy sauce. It is challenging for Japanese women to cook western cuisines because Japanese women grew up eating miso and soy source every day, and they are not familiar with cooking with herbs and western seasonings.
If you get married to a Japanese woman, it means that your food habit will most likely change to a fusion eastern western style. Will you enjoy eating Japanese food every day? Or, will you teach her how to make your family's traditional foods? As a Japanese woman, I am very interested in learning about my husband's culinary culture. He is a fantastic cook so it has been a very interesting journey so far! I hope you and your Japanese wife will be able to create your new family food tradition and discover new tasty cuisine together! Doing so will make your lives rich, abundant, and enjoyable!
TJM Winter Holiday Notice:
Our office will be closed from Dec 23rd to Jan 4th. We are happy to receive your message during this week, but we will not respond to you until after Jan 4th. If you have an emergency issue, please write Emergency on the subject line, and we will check your message ASAP.
Happy Holidays!
Naoko Matsumoto
Founder & CEO of Traditional Japanese Matchmaker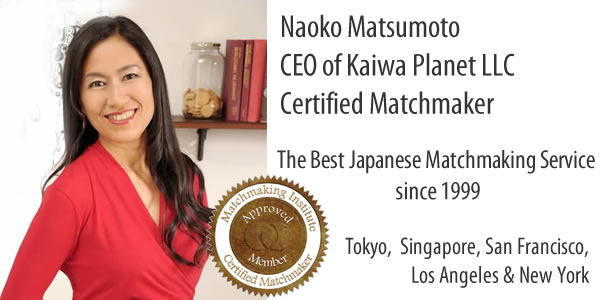 Traditional Japanese Matchmaker is the best dating and matchmaking service in Japan that is specialized for single professionals and Japanese women established in 1999. Please click the link below to sign up for TJM's Free Registration if you are truly interested. We look forward to assisting you in finding your Japanese wife.
Naoko Matsumoto
CEO and Your Personal Matchmaker
Traditional Japanese Matchmaker