Three Things That Can Help Her Improve Her English Skills
Meet Japanese Women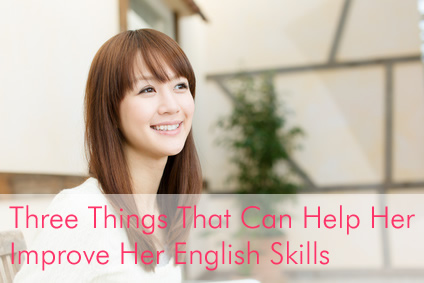 Three Things That Can Help Her Improve Her English Skills
Some of our male clients ask us if our female members' English Skills are at a high level. Generally, all of our female members speak and write very well in English. All of our female members had six years of English classes in grade school, and some continued learning English at an university for a total of ten years of English. Of course, their levels vary a lot. Some people are naturally gifted with better language skills than other people. This is true in any society. However, since most of our female clients live in Japan and are not hearing or conversing in English daily, they will need to practice speaking and writing once they move to an English speaking country. And, all of our female members will benefit from talking with our English speaking male members or their future husbands.
We ask our male clients to be tolerant of our female members English speaking abilities since not everyone will have perfect abilities. I met a few male clients who can speak the Japanese language almost perfectly. However, we do not expect our male clients to have great Japanese language skills. We would like our male clients to do the following three things to help our female members improve her English skills.
Be a Good Listener.
Encourage her to learn correct English.
Talk, Talk, and Talk with Her.
Be a Good Listener.
You may be irritated sometimes when you cannot understand what she says. You will need to ask her, "What did you say?", "What does it mean?", or "Say it again?" repeatedly. Please do not give up until you understand what she said. Please do not ignore her even though you don't understand what she said. You may have to be very persistent and patient in the beginning in order to understand each other. Being a good listener is most important if your goal is getting married to a Japanese woman.
Encourage her to learn proper English.
If you say, "I know what you mean", it may make her feel sad since the phrase, "I know what you mean" implies that you may not understand her perfectly. She may feel that you may want to discontinue the conversation because you are tired of listening to her carefully. In order to avoid any misunderstandings or hurt feelings, it is preferable if you would suggest the correct English sentence to confirm what she really wanted to say. For example, "Did you mean to say ….?", or "Were you trying to say …….?" Are good ways of replying to her. So, offering her encouragement and correcting her English helps her to learn proper English and to be more confident.
Talk, Talk, and Talk with Her.
In Japan, online English classes are very popular. Usually, they use Skype and it costs less than 5 dollars for one session since the online English class teacher is in the Philippines. It helps our female members improve their English skills at a low cost. However, I recommend our female clients spend more time talking with our male members on Skype.  The more you and she talk, the more you and she will understand each other. In order to break the language barrier, keep talking to each other.
Most of our female members have experienced studying abroad or working abroad. This is one of the reasons that they want to meet men outside of Japan. So, you don't have to worry about their communication skills. If you approach this topic with a helpful and open mind, and truly desire to help her improve her language skills, your relationship with her will be better.
I have lived in the US over 10 years, but my English skills still need improvement. I am studying English every day. My husband always helps me and corrects my English. I cannot write this blog without his help. Thank you dear! Because of my husband's help, I believe my English is improving day by day. I appreciate that he is a good teacher and a good listener.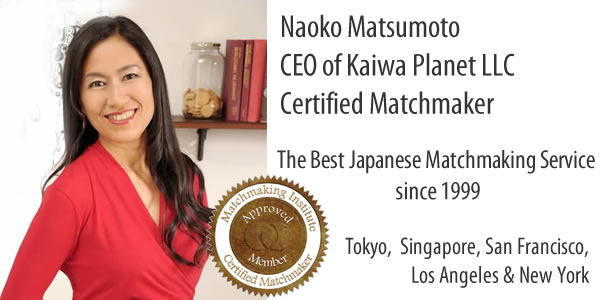 Traditional Japanese Matchmaker is the best dating and matchmaking service in Japan that is specialized for single professionals and Japanese women established in 1999. Please click the link below to sign up for TJM's Free Registration if you are truly interested. We look forward to assisting you in finding your Japanese wife.
Naoko Matsumoto
CEO and Your Personal Matchmaker
Traditional Japanese Matchmaker