Financial Independence for Married Japanese Women Living Abroad
Tips for Men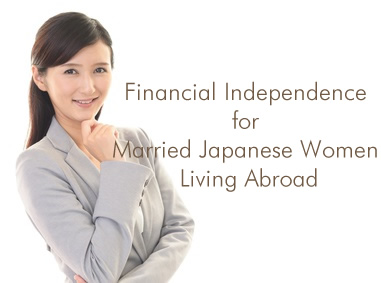 Financial Independence for Married Japanese Women Living Abroad
Some of our male members who want to marry a Japanese woman are concerned about whether she is financially independent. It doesn't depend on how much she earns, rather it is important that our Japanese wives feel confidence, independence, and are able to meet people in their adopted country. And, western men usually want their wives to have jobs that give them a sense of purpose in life.
Of course, most of our female members are at high positions in their companies. Some own their own businesses and some earn more than $100,000 annually. However, they are not sure of how to proceed with their career after getting married. They must deal with their husbands' expectations, and there are many other factors like new language, location, having children, and job requirements.
No one can guarantee that they can continue their career at their new location. For example, many of our female members are teachers, doctors, and nurses. They may be required to obtain a new certificate or degree in their new homeland if they want to get a job in the career they had in Japan since many countries only accept degrees from the home country.
If they are in their 20's they are able to go to a university without hesitation. However, women who are in their 30's have to think about having children and pursuing their career at the same time after getting married. It is not easy for them to find a job where they can earn the same or more than they did in Japan.
Here is one of TJM's successful cases:
One of our female members used to be a professor at a University in Tokyo. After marrying an American man, she relocated to the US and she searched for a job near their home in the US. Since there was no position for her with her profession, she reluctantly chose to work at a typical supermarket in town. Her income is minimum wage, but she appreciates that she can experience working in the US even though she is a foreigner. She has been working at the supermarket, found some new friends, saved some money, and got used to her new life in the US. Her husband has also been teaching her how to buy and sell stocks, and so she started investing money she earned at the supermarket. She and her husband are working together to improve their family's finances. Her enthusiastic attitude has allowed her to learn new things, meet new people, and improve her life.
Some of our Japanese female members have never thought about how their lives will change after marrying and moving to their new homeland. Basically, it is like starting a new career or starting from zero since they will have to start from the beginning. Some of them may not want to work at a supermarket earning just a minimum wage. Some of them may struggle with an "identity crisis" or lack confidence if they cannot find a similar job to the one they had in Japan.
In order for Japanese woman to learn the facts of international marriage, we will host a seminar on Jan. 9th in Tokyo for our female clients titled, "Marriage, Relationships and Financial Matters for Japanese Women Marrying Internationally". Our second event, "TJL's 2016 Meet and Greet Event in TOKYO" takes place on Jan. 10th. The seminar will be lectured in Japanese, so it is mainly for Japanese women, but if you are interested in listening, you are welcome to join us. Over thirty Japanese women have already signed up for the seminar.
The Seminar "Marriage, Relationships, and Financial Matters for Japanese Women Marrying Internationally"
Date: Jan. 9th 2016Time: 1 pm – 4 pm
Place: Shinjuku, Tokyo
Fee: Free to attend, but preregistration is required. One must RSVP through the link below.
Here are the details of "TJL's 2016 Meet and Greet Event in TOKYO".
Date: Jan. 10th 2016
Time: 10 am – 1 pmPlace: Shinjuku Tokyo
Fee: Early Bird Special (by the end of November): $50; December 1st and after: $60  Now is Early Bird Signup!https://meetjapanlady.com/lessons/mjls-2016-meet-and-greet-in-tokyo-now-is-early-bird-signup/
Note: Both of the events are for TJL's Full Members only.  Joining our events in Tokyo is a wonderful opportunity to meet and greet with Japanese women, and to visit Tokyo, one of the world's great cities. We would like to host this event in TOKYO at least 2 times a year for our members in order to help them feel joy, have confidence, and reach their goals of happiness.
We look forward to meeting with you in TOKYO on Jan 10th!
Naoko Matsumoto
Founder & CEO of Traditional Japanese Matchmaker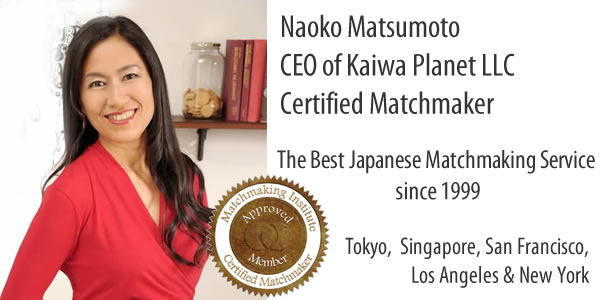 Traditional Japanese Matchmaker is the best dating and matchmaking service in Japan that is specialized for single professionals and Japanese women established in 1999. Please click the link below to sign up for TJM's Free Registration if you are truly interested. We look forward to assisting you in finding your Japanese wife.
Naoko Matsumoto
CEO and Your Personal Matchmaker
Traditional Japanese Matchmaker