Spring 2017 Speed Dating Event in NYC
Events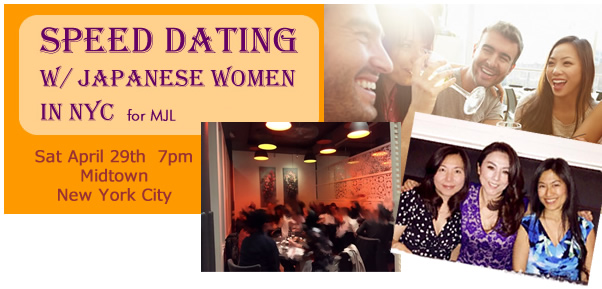 Spring 2017 Speed Dating Event in NYC
In Japan, Cherry Blossoms are starting to bloom. Spring has come! How about your place?
We are announcing TJL's Special Event in NYC on April 29th!
What: Speed Dating with Japanese Women in NYC
When: April 29th 2017; 7-9 pm
Where: Midtown (Details Later)
https://meetjapanlady.com/nyc/
Our Speed Dating event is a fun and exciting event. Usually, 16-24 men and women will attend and you have 5 minutes to converse with each woman.
Last year, we hosted two Speed Dating Events in NYC. One was in April and the other was in September. Also, we had two Speed Dating Events in Japan and one event in San Francisco. Our speed dating events are unique because both men and women who attend are looking for marriage partners and are not just looking for dates. So, if you really want to meet a marriage minded Japanese women, this is the best place for you! Joining our event is much better than going to a bar and trying to meet women whom you don't know.
Most of the Japanese women who attend our events in NYC actually live in the NYC area. Meeting someone who lives in your area may be beneficial for you if you also live in the NYC area. If you don't live in NYC, it is still great to meet with Japanese women who have lived in the US for a long time since you may feel more comfortable talking with Japanese women whose language skills are better than women in Japan. Either way, attending our Speed Dating Event is a win-win for everyone who attends!
https://meetjapanlady.com/nyc/
Spring has come! And this is a great opportunity for all members to take action now!
We look forward to meeting with you in NYC!
PS
If you are not able to attend this meeting, the next event is in July 2017 in Japan.
http://beret-ex.jp/fx/18
Naoko Matsumoto: CEO and Your Personal Matchmaker