Tips for Men
Why She is Still Single
"Why are you still single?" At their first meeting, some men may ask her this question.
It may be hard for you to believe it when you meet a beautiful woman who is in her mid 30's and has never been married. You may wonder what has she been doing or why no gentlemen has been interested in her. We understand that you ask the question: "Why are you still single?" to her in a positive way. However, for her this question may be a super tough question and it may hurt her feelings. Here are some of the obvious facts: she has not wanted to be single for a long time, she may have had some romantic experiences before, and she is simply single now. There may be many reasons, but she may not want anyone to point out the truth or talk about it.
Obviously, her parents and family has been concerned about her and keep asking her when she will get married. So, she may be tired of hearing the same questions repeatedly. She may even feel that people are blaming her if she is still single.
Actually, all our female members are single Japanese women. After the first meeting with a new gentleman, and if she has been asked this kind of question, she may give us negative feedback like, "I didn't want him to ask that question!"
We encourage her and say to her:
"The next time you meet a gentleman and he asks this question, please say to him:"
"I have been single because I have been waiting to meet with you. I am so happy to meet with you today!"
They both smile and then everything goes well.
To gentlemen who want to marry a Japanese woman:
Please don't ask her this question, and please understand that she has been single in order to meet with you TODAY.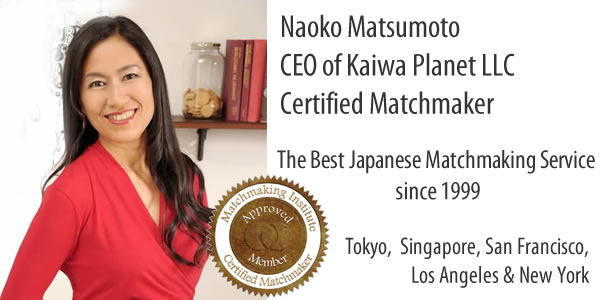 Dating and Matchmaking Service for Single Professionals and Japanese Women Established in 1999
We have been working as professional Japanese matchmakers for 18 years. We look forward to assisting you in finding your Japanese wife. Please click below to make an appointment for a Free Skype consultation if you are truly interested. We are happy to make an appointment with you after you have created your own profile. https://meetjapanlady.com/company.html

Naoko Matsumoto
CEO and Your Personal Matchmaker
Traditional Japanese Matchmaker