Who Are You Celebrating Thanksgiving With?
Tips for Men
Who Are You Celebrating Thanksgiving With?
Happy Thanksgiving!!!!!!
The holiday season is coming!
I hope that you are having a wonderful time on thanksgiving with your family and friends.
I would like to share the story of my first thanksgiving in the US. It was 2004; I was a student of the University of Nevada in Las Vegas. At that time, I was single, and I didn't have any family in the US. I didn't even know what thanksgiving was and I had no idea about the American holidays at all.
Someone said, "Nobody works on thanksgiving. They are all with their family." I couldn't believe it and I drove to the closest shopping mall. Then I saw the empty parking lot and screamed "ARE YOU KIDDING?" I had nothing to do that day and I patiently waited until thanksgiving had passed. Actually, I hated the holiday season when I was single because I was alone.
As I had experienced them I understood that holidays are not always fun and may even be harmful and lonely for some people. However, after getting married, I was able to enjoy my time with my family during the holidays. Now I enjoy the beautiful winter time with lively people around me!
Who are you celebrating Thanksgiving with this year?
If you are single, looking for a Japanese wife, don't have much to do, and have plenty of time this weekend, we recommend watching the following videos.
Red Table Talk:
https://www.facebook.com/redtabletalk/videos/2174148442809253/
https://www.facebook.com/redtabletalk/videos/248366862696188/
One of our male clients, a Mr. M in San Diego, sent these links to us. They are very helpful to everyone who is in a relationship. Or, even if you haven't found your right person, watching these videos may help you. Thank you Mr. M!
We are happy to assist you in finding your beautiful Japanese wife, and you will be able to spend your holidays with her next year! How amazing is that?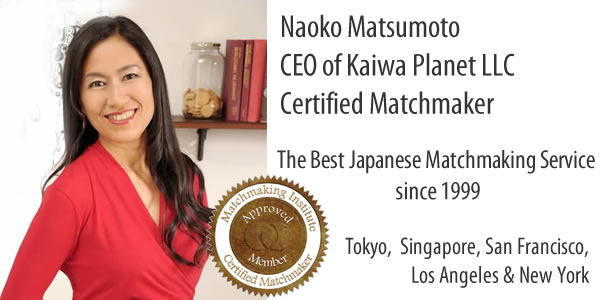 Dating and Matchmaking Service for Single Professionals and Japanese Women Established in 1999
We have been working as professional Japanese matchmakers for 18 years. We look forward to assisting you in finding your Japanese wife. Please click below to make an appointment for a Free Skype consultation if you are truly interested. We are happy to make an appointment with you after you have created your own profile. https://meetjapanlady.com/company.html

Naoko Matsumoto
CEO and Your Personal Matchmaker
Traditional Japanese Matchmaker