#083 The Miracle of "Anyway, Let's Try!"
Tips for Men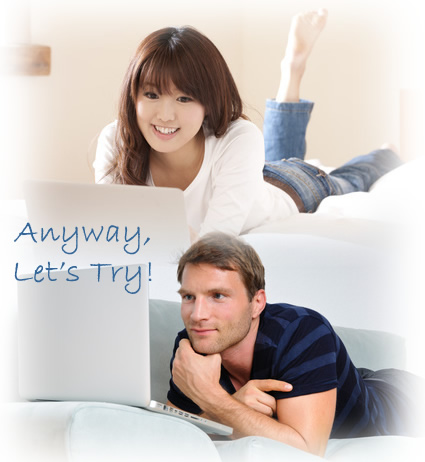 #083 The Miracle of "Anyway, Let's Try!"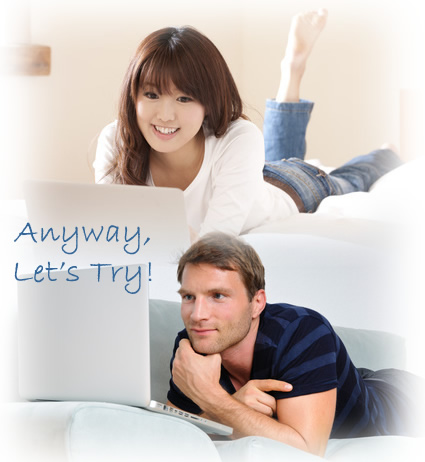 We heard very positive feedback from one of our male members (Mr. S) who met one of our female members (Miss Y) at our Tokyo office in August.
"Thank you for introducing Miss Y to me. It was AMAZING!"
Congratulations!
He sounded so excited, and we are glad to be with them in a fantastic moment.
At the same time, Mr. Miyata at our office wrote to me that everything is great with the couple when he attended their meeting.
~・~・~・(A Message from Miyata)・~・~・~・~
Miss Y ・・・
I don't remember meeting her before.
(Miyata didn't remember meeting her before even though Miss Y had visited our office.)
I asked Miss Y if I interviewed her at my office before, although it was a kind of silly question for her.
She didn't look like the same woman that I had met at our office. Now she looked so happy, shiny, and attractive. Perhaps, meeting with Mr. S had made her so attractive.
I am glad to see such a wonderful couple.
How wonderful I am to be a matchmaker to share such a happy moment with our client couple. It is incredible!
He will return to his home country soon, but she is going to visit him shortly thereafter.
~・~・~・(A Message from Miyata END)・~・~・~・~
It was a successful meeting!
I feel a miracle happening every time that one of our male and female clients connect and become a happy couple. It lifts my spirits and renews my conviction to help more of our clients find their joy!
Actually, I talked with Mr. S and Miss Y separately on Skype many times. However, Miss Y was not on Mr. S's list of ideal candidates at the beginning. And, Miss Y's preferences did not exactly match with Mr. S.
So, you might be wondering how they got the opportunity to meet each other. Our latest happy couple was able to meet simply because they listened to their matchmaker's suggestion that they might be right for each other.
Conversely, with typical computer generated online dating websites, members only see profiles and do not get to know members easily. Our newest happy couple would never have met through a typical site since they were not the perfect match based strictly on their profiles.
But, as we all know, happy relationships require much more than strictly looking at the facts of a member's profile. A happy relationship requires a chemistry of attraction that can be best seen by a matchmaker who is trained in bringing happy couples together.
When I talked with Miss Y, at our monthly Skype session, I had a good impression of her since she is always smiling, never complaining, and very honest. I suggested to her to read Mr. S's profile. Instinctively, I said to her,
"He might not be an exact match for you at first glance, but I suggested that he might be a great match anyways and it is worth your time to start communicating with him?"
At the same time, I suggested to Mr. S to contact Miss Y.
Luckily, both of them are open minded and they listened to their matchmaker's suggestion and started communicating with each other.
Let's try, anyway even though he/she is not exactly who I am looking for. Let's try to write to him/her if Matchmaker Naoko suggested: he/she might be a wonderful person.
Likewise, both of them started with
"Anyway, Let's Try!" mindset, and as a result of that "Anyway, Let's Try!" made a miracle.
Many people just see the members' photos and say,
"Oh, I don't feel any chemistry."
Many people don't even read the profile and say,
"Oh, I am not interested in her/him"
Or they say,
"I will choose my own candidates, thanks!"
That's fine.
We respect each member's own choice if it works well.
However, if you chose us as a partner to work with in finding your right person, we suggest that you use our service to your advantage by listening to our experienced matchmakers suggestions. By taking action with the mindset of "Anyway, Let's Try!" Miracles will happen"
If you act with idea of "Anyway, Let's Try!" something that you never expected might happen in a short time. And you might be free from the struggle that you have been having for a long time.
OR
You might not have any good results with "Anyway, Let's Try!" at the beginning. However, you will learn something that you haven't experienced before and if you keep trying with an open mind, you will eventually succeed in meeting your partner that makes you happy.
Some of our members give us feedback like this.
"Anyway, I met her, and she was not whom I have been looking for, but the image of my ideal partner is now clear. Thank you!"
In conclusion, you will succeed in finding your ideal partner when you choose TJL and listen to their expert matchmakers. By being flexible, listening to others, opening your mind, you will create more opportunities to meet someone special. Being open minded allows miracles to happen and will allow you to reach your happiness.
I highly recommend everyone to take action with "Anyway, Let's Try!"
And, then I believe you will create your miracle!
We are always happy to assist you!
Naoko Matsumoto: CEO and Your Personal Matchmaker