When Is It Appropriate to Begin an Intimate Relationship?
Blog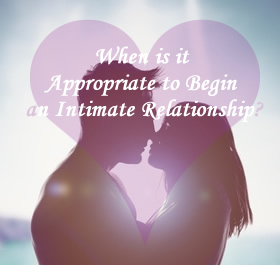 When Is It Appropriate to Begin an Intimate Relationship?
"When is it Appropriate to Begin an Intimate Relationship?"
There may not be one simple answer.
Generally speaking, when you and she agree, it is fine.
However, Japanese women may not be able to say "No!" to a man's demands. In addition, there is always a risk for women to become pregnant. We expect our male members to be considerate of our female members' needs and to make decisions with compassion and sensitivity. TJM asks its male members to at least consider the following guidelines when deciding whether to engage in intimate relationships with TJM's female members.
1) Have you confirmed with each other that you are in a committed relationship, in an exclusive boyfriend and girlfriend relationship, not seeing anyone else, and thinking about marriage in the near future?
2) Do both of you really desire to have children now? If not, are both of you prepared to use birth control now?
3) Are both of you committed to the other person's welfare? Are both of you prepared to take responsibility for your own actions in life?
You may think, "I am not a child and I don't need to be told what to do!"
However, we ask you to think about this thought first. If both of you feel very happy in a romantic atmosphere after the first meeting, you might very well lose control and just follow your instincts without thinking about her risk. Pregnancy can very well be the result.
Shotgun wedding = DEKICHATTA KEKKONN(in Japanese) is currently very popular in Japan. However, with an international marriage is not that simple to simply have a quick wedding since there are certain bureaucratic steps that take time to complete in order for her to obtain her fiancé visa and in order to get legally married. So, it would be better for both of you to prepare for a possible pregnancy if both of you engage in unprotected sex before marriage.
We sometimes hear that after the first meeting in Japan, a female member is invited by him into his hotel room. TJM will never judge about this act since both of you are adults, and you deserve to make your own decisions.
However, TJM asks our male members to proceed with caution when thinking of engaging in an intimate relationship before marriage since the welfare of our female members is your responsibility. Japanese women are generally passive and will usually do what men ask of them, like making love after the first meeting even though both of you have not agreed to be in a committed relationship.
Especially, Japanese women who are in their late 30's may think
"I don't want to lose this gentleman".
She accepts you anyway since she doesn't want you to dislike her.
Many Japanese women believe that there is no choice if she wants to keep a good relationship with him. Because of that, some men who are playing in online dating sites take advantage of Japanese women's psychology, and enjoy one night love.
In order for Japanese women to protect themselves, we advise our female members not to have an intimate relationship with their candidate until they have confirmed the relationship is exclusive.
We advise our female members to have a face to face discussion time and calmly discuss the merits of the relationship with him. If she feels uncomfortable with how he reacts or with what he says, TJM encourages her to say, "No!" to having sex. Also, we ask her to pay attention to how he reacts to their discussion.
Does he listen to her and care about her?
Does he make a commitment?
Or does he run out of patience and leave her with her words…
If he leaves, she is just a playmate for him, and it is good to know at this early stage how he really feels about her. If he cares about her, he will face her and discuss their relationship with a sincere feeling.
"I do not want to make love until I confirm that we are in an exclusive relationship." TJM believes that gentlemen who are sincere understand the meaning of her words.
Additionally, TJM highly recommends for all members to share their STD and HIV test results with their partners. Many people travel all over the world and maybe some of them experience one night love with people they meet.
People may or may not know if they are infected with sexually transmitted diseases. It is important to creating a healthy relationship to be tested for STD's and HIV.
You may say, "I have no problems anyways".
Seeing is believing. it is always good to feel comfortable with each other when you see the negative result of the STD and HIV tests.
TJM always thinks about our members' healthy relationships and physical and mental wellbeing. We hope that our members think about it too before deciding to start intimate relationships.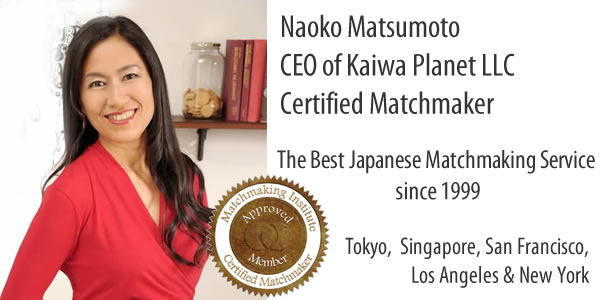 Traditional Japanese Matchmaker is the best dating and matchmaking service in Japan that is specialized for single professionals and Japanese women established in 1999. Please click the link below to sign up for TJM's Free Registration if you are truly interested. We look forward to assisting you in finding your Japanese wife.
Naoko Matsumoto
CEO and Your Personal Matchmaker
Traditional Japanese Matchmaker