#084 Meet Japanese Women in NYC & NJ Event(s)' Feedback
Events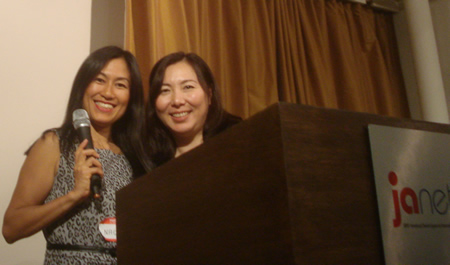 #084 Meet Japanese Women in NYC & NJ Event(s)' Feedback
TJL had two big events in NYC & NJ on Sept, 13th & 14th.
It was one of the greatest events we have ever had!
Everyone seemed to enjoy themselves!
Male and female participants came not only from NYC but also from Japan and other US states. We appreciate that many people decided to come to our unique events from far away.
Speed Dating Event in NYC on Sept. 13th: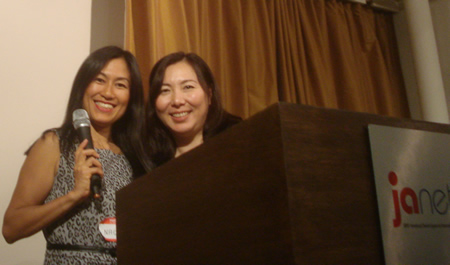 We had 18 male participants and 19 female participants, for a total of 37 participants.
Each one had 3 minutes to talk with his/her date.
It lasted 2 hours with nonstop heated conversations!!!
It seemed that everyone felt like "time flies" since 3 minutes is not long enough to talk with one person. That is why we had two opportunities to mingle at the first half and the latter half of the event. Therefore, everyone had nice conversations.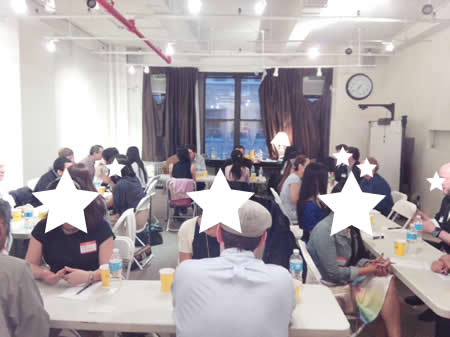 As a result of this event, many participants met their ideal partners for dating!!!
Congratulations!
BBQ Party in NJ on Sept. 14th: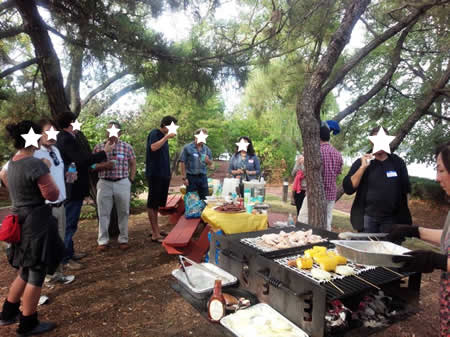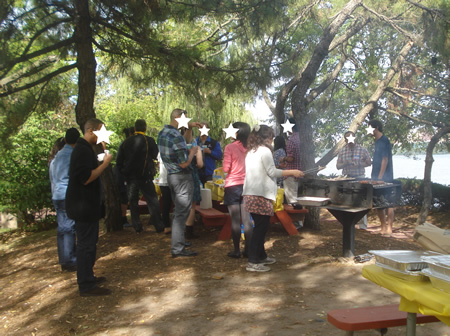 We had beautiful weather for the BBQ party. We held the party at the perfect place; at my friend Lisa's residence where there is a BBQ picnic area. The party was a casual, fun, enlightening, and friendly event. We felt like everyone was our family.
Luna was in charge of the BBQ grill, and Miss H from Santa Monica CA, assisted her.
Thank you very much!
~・~・~・~・~・~・~・~・~・~・~・~・~・~・~・~・~
Here is feedback from some of the participants.
Naoko, Luna –
Thank you for coordinating such a nice event.
Hope to see you soon –
(J from DC)
Naoko,
I really enjoyed yesterday's Speed dating event. It was excellent.
(S from NYC)
I want to thank you very much for yesterday's beautiful BBQ party. The food was great and very nice people. I had a great time. Also please send my thanks to Lisa for the opportunity she gave us, what a wonderful lady. Thank you again and good luck with your business, you guys are doing great thing.
(M from NYC)
Dear Naoko,
I wanted to write and thank you for 2 lovely events. The speed dating was really fun and I had an excellent time at the BBQ. Please thank Lisa for me. She was wonderful and very hospitable and a wonderful generous person- just like you! Arigatou gozaimasu
(G from NYC)
Hi Naoko,
Thank you for this information.  Yes, I had a nice time on Saturday and enjoyed meeting everyone.  (It was also a good chance for me to practice my Japanese.)  I was surprised that so many women at the event live in New York.  I was thinking that most of your clients live in Japan.  Thanks,
(B from DC)
Hi Naoko san, Luna san,
I had a great time at the BBQ. I should have talked more to the ladies but I am shy.
I enjoyed meeting M and H very much and exchanged Line texts with them. Lisa is a very nice and kind person so I was happy to meet her. The only feedback I have really is hopefully we can have more NY/NJ events soon… Thanks again, keep in touch.
Sincerely,
(A from NYC)
Hello Naoko or Luna,
I did indeed have a good time. I thank you for the follow up. I will contact both R and K (we have already made a friendship). Have a good day,
(D from NYC)
Dear Nahoko,
Thanks you for your email. I wanted to write you also to tell you how much I enjoyed both events last weekend. They were really great, everyone was very nice. All the girls specially were very polite and easy to talk to and friendly. Thank you also for being so nice and welcoming yourself. The whole thing was just really special, I had a great time! 🙂
I would like to meet you in October as you mentioned in this email. Lets coordinate that.
I hope you are doing well.
Best regards,
(H from NYC)
Hi Naoko,
It was very exciting. I'm happy there turned out to be equal amounts of men and women. What a very nice group of people that came.
Thank you, all the best,
(B from NYC)
Noako and luna,
You guys worked hard and did a great job on this event. I really enjoyed it.
I will look forward to see you again soon. Thanks and take care.
(R from NJ)
松本様
この度はありがとうございました。
なんとか参加出来て良かったです。
大概の方とはお話で来ましたし。
何より、形式がわかって、
またお話してみたい、と思った人もいたことが嬉しかったです。
(T from Japan)
なおこさん、るなさん
週末は楽しいイベントありがとうございました。
男性も女性も含めて色々な方とおはなしできて楽しかったです。
色々とありがとうございました。
(R from DC)
松本直子様
土曜日、日曜日のパーティーでは本当にお世話になりました。
ご無事にご家族のもとへご帰宅されましたでしょうか?
ご準備の段階から、色々とお疲れ様でした。
お蔭様でとても素敵な方々と楽しい時間を過ごすことができました。
婚活仲間もでき、よき友人として、
またライバル(?)として切磋琢磨していけそうです。
(S from NYC)
直子さん、Lunaさん、
こちらこそ、ありがとうございました。
一回でうまくいくはずがないので、
これをきっかけにちょっとがんばってみようかと思います。
おかげさまで新しい友達もでき、楽しい時間をすごすことができました。
まずは無料登録をさせていただきました。
いろいろ経験させていただきたいと思います。
今後ともよろしくお願いいたします!
(S from DC)
~・~・~・~・~・~・~・~・~・~・~・~・~・~・~・~・~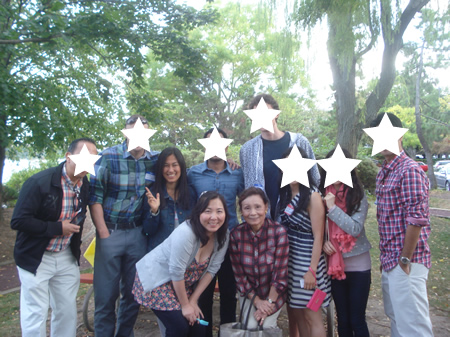 Center is Lisa:
Lisa is a Japanese woman who has been living in NJ for more than 30 years. Her profession is a teacher of the BRIDGE GAME, and she has developed extensive connections with Japanese people in NY/NJ. Becoming Lisa's friend will certainly be beneficial. 
We had a great time and we learned many things from these two events, and we will share with you what we learned someday in this blog.
For future events, we will plan more members' only events. Members' only events will be more convenient since they will allow our members to read other members' profiles before and after events, and it will allow TJL to more easily follow up with our members and their relationships after the events. We believe that our events should be of more benefit for our members.
We think TJL will have one more event this year. Most likely, it will be in Japan or Singapore.
If you are interested in attending our events in the future, please complete your profile registration application located in TJL's newsletter.
https://meetjapanlady.com/Step1.htm
And remember, TJL creates great opportunities to meet Japanese women!
"Thank you everyone!"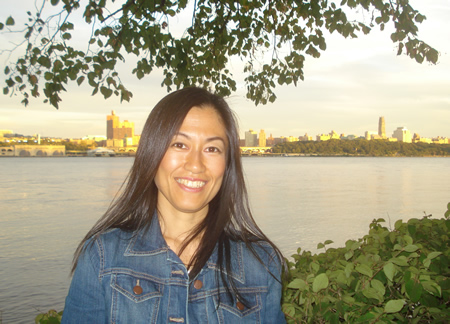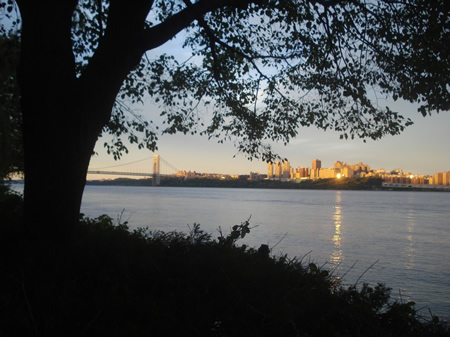 "Thank you NYC & NJ!"

We are always happy to assist you!
Naoko Matsumoto: CEO and Your Personal Matchmaker