The First "Congratulations!" in 2018 – The Links of Happiness
Tips for Men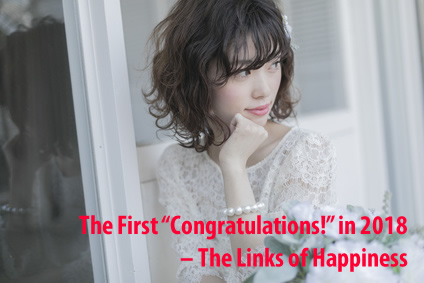 The First "Congratulations!" in 2018 – The Links of Happiness
We just received a message from one of our male members, "We are engaged!" This is the first "Congratulations!" in 2018, and we are so happy to hear that!
He became our member 6 month ago. He was introduced to our company from one of our former members who got married a few years ago. We really appreciate referrals from happy couples since we believe that happy people are in a happy community and the links of happiness will last forever.
If you know of professional singles around you, would you please let them know about our service?!
The links of happiness are very important. We recommend all of you to be with happy people if you want to keep yourself happy.
A long time ago, I was working as an assistant for a matchmaker who matched Japanese men and Russian women. After getting engaged, his Russian women members would come to Japan and to start a new life in Japan. Most of them would go to Japanese schools as the first step in getting used to life in Japan. Then, they wanted to get a better job than the one they had in Russia. Their lives changed for the better compared to their former lives in Russia. They were happy with their husbands. Therefore, a lot of Russian women who wanted to become happy came to our matchmaking company.
At that time, I heard about some bad companies who invited Russian women from Russia to work at night clubs in Tokyo. The bad people took their passports, so the Russian women could not go back to Russia. Unfortunately, the lives of the Russian women who got involved with these bad companies became worse. These were criminal acts. You have to be very careful to distinguish happy person or not with your instinct.
I would like to increase the size of our own happy community! To do so, we need your participation!
Important Notice:
In 2018 our membership fees will increase.
If you have been thinking about becoming our member, you may still join now before our fees increase.
Team TJM
Speed Dating Event in Japan on July 7th 2018
If you haven't planned to visit Japan, we recommend to plan on July 7th 2018. We will host a speed dating event in Tokyo, so you can meet manybeautiful Japanese women in Tokyo in one day. Also we can arrange individual meetings for you. I am sure this is a great opportunity for you if you really want to marry a Japanese woman within a year!
Speed Dating Preregistration: Register now, and you will receive the info early.
https://meetjapanlady.com/event.html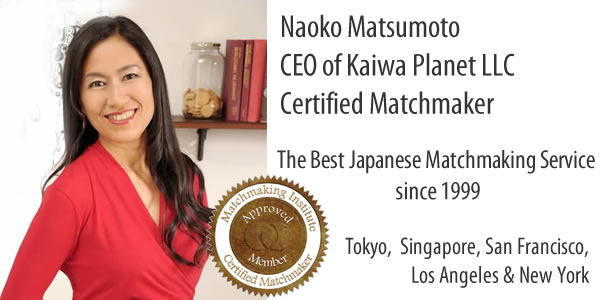 Dating and Matchmaking Service for Single Professionals and Japanese Women Established in 1999
We have been working as professional Japanese matchmakers for 18 years. We look forward to assisting you in finding your Japanese wife. Please click below to make an appointment for a Free Skype consultation if you are truly interested. We are happy to make an appointment with you after you have created your own profile. https://meetjapanlady.com/company.html

Naoko Matsumoto
CEO and Your Personal Matchmaker
Traditional Japanese Matchmaker