How to Choose the Ideal Japanese Woman
Tips for Men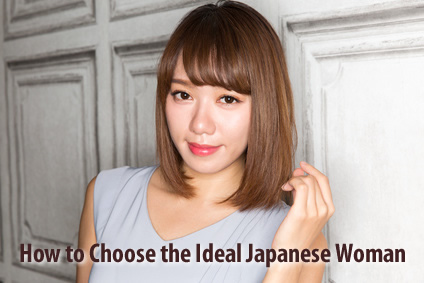 How to Choose the Ideal Japanese Woman
We offer two different ways for us to introduce your first three candidates:
We select candidates for our clients.
The clients select candidates by themselves.
Many of our male members want to select their candidates by themselves. Most likely many people are used to doing so from playing on online dating sites. We understand that men want to be in control and make their own decisions.
However, if you are divorced it would be better to let your personal matchmaker select candidates for you. You will not want to make the same mistakes again, and your matchmaker is happy to help you find the right Japanese woman for you.
Usually, men want to select women by themselves, but this can lead to problems in the future. Problems arise since our male clients tend to select very similar types of women to their ex-wives even though their previous marriages didn't fare well.  One of our male clients said. "I was tired of my ex-wife. She spent all of my money on her dresses, shoes, bags, and cosmetics." Then, when he looks for candidates on our website he searches for women who are very similar to his ex-wife who are very beautiful and prominent in their profile pictures. This may be fine, but you need to know that beautiful women pay a lot of attention to their looks and want to keep their beauty by shopping for clothes and cosmetics.
We understand our female members' personalities, needs, and lifestyles since our matchmakers interview all of our members. We know which female members are loyal, modest, and peaceful. These modest women are usually not very pretentious in their pictures, so they are not selected by men that often. However, they are beautiful and have great personalities. We usually recommend to our male clients that they choose modest women since they will make better wives and their marriages will be more harmonious.
Sometimes, our matchmakers may not select a woman whom you would usually consider. However, please trust your matchmaker since our matchmakers have years of experience and understand who will make the best match for you. And, the woman your matchmaker selects for you is always based on your preferences and she will have a nice personality. She may not look very foxy like a super model, but she will have a warm personality and an inner beauty. She is not an aggressive gold digger; rather she is a humble, loyal woman who will make a wonderful wife.
If your previous marriage was not very happy, we recommend that you trust our matchmakers to choose your female candidates. We interview all of our female members and talk with them on skype often, so we understand our female members' personalities, needs, and lifestyles very well. You don't have to spend much time searching for your ideal wife. All you need to do is make an appointment for a free skype consultation with one of our experienced matchmakers today!! It is the best way to choose your ideal Japanese wife!!!
Naoko Matsumoto
Speed Dating Event in Japan on July 7th 2018
If you haven't planned to visit Japan, we recommend to plan on July 7th 2018. We will host a speed dating event in Tokyo, so you can meet manybeautiful Japanese women in Tokyo in one day. Also we can arrange individual meetings for you. I am sure this is a great opportunity for you if you really want to marry a Japanese woman within a year!
Speed Dating Preregistration: Register now, and you will receive the info early.
https://meetjapanlady.com/event.html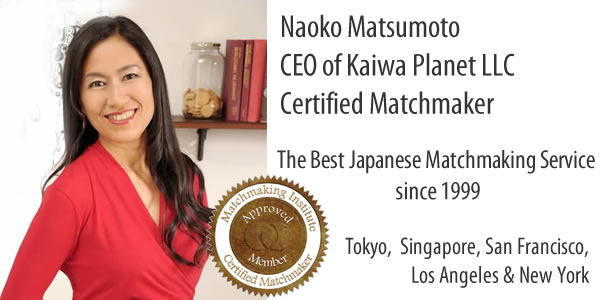 Dating and Matchmaking Service for Single Professionals and Japanese Women Established in 1999
We have been working as professional Japanese matchmakers for 18 years. We look forward to assisting you in finding your Japanese wife. Please click below to make an appointment for a Free Skype consultation if you are truly interested. We are happy to make an appointment with you after you have created your own profile. https://meetjapanlady.com/company.html

Naoko Matsumoto
CEO and Your Personal Matchmaker
Traditional Japanese Matchmaker