Japanese Women and US Immigration: Laws May Be More Strict
Laws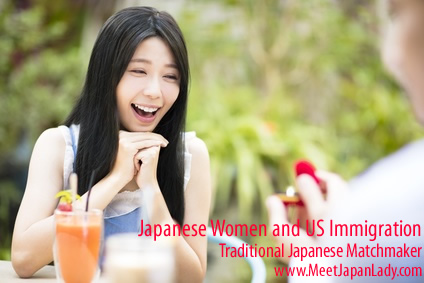 Japanese Women and US Immigration: Laws May Be More Strict
After we shared tour first report of "We are engaged" in 2018 in our last newsletter, some of our members wrote to us, "Me Too!" One of our couples just got engaged and completed filing her fiancé visa. We are so glad to hear their wonderful news. "Congratulations!"
Recently, the US has created stricter controls for immigrants coming into the US. The new controls also affect Japanese women.
One of our female members who just filed her fiancé visa wrote to us that it may take nearly one year to obtain her fiancé visa. Usually, it takes 6 to 10 months. So, if you are thinking about having a Japanese wife, please notice that obtaining her immigration visa may take a longer time than before.
If you already have a Japanese wife, please check the expiration date of her green card. One of my Japanese friends told me that it took a huge amount of time to renew her green card. Usually, the green card renewal process can be filed 6 months before the expiration date, and my friend did, but she feels that there was a "LONG TIME WITH NO RESULTS". So, she recommended to me to start the renewal as early as possible. I just confirmed the expiration date on my green card, and marked it on my google calendar in order to avoid forgetting. I often travel to other countries for matchmaking business. If my green card expires without a renewal, I will not be able to return home to see my husband and son even though our home is in the US.
FYI, upon entering the US on our return from our Germany trip last summer, me and my family were held at the immigration room at the DC airport and constrained for several LONG hours for no reason whatsoever. Of course, we were NOT guilty of anything, and we were released when an officer finally checked our papers. The worst part was that we were not told why we were being held or how long it would take. So, it was very difficult for us to just sit in the room with nothing to do. Usually, it is only in rare cases that families are constrained at the immigration room in airports, so we believe that the immigration control at airports in the USA is stricter than before.
It may happen to your Japanese woman when she travels to meet with you. To avoid making her nervous, we recommend that you visit Japan for your first meeting. We appreciate that you are caring about your Japanese woman!
We understand that Japanese women as immigrants must follow the US law. So, we announced to all of our female clients to be careful about the strict US immigration laws.
Speed Dating Event in Japan on July 7th 2018
If you haven't planned to visit Japan, we recommend to plan on July 7th 2018. We will host a speed dating event in Tokyo, so you can meet manybeautiful Japanese women in Tokyo in one day. Also we can arrange individual meetings for you. I am sure this is a great opportunity for you if you really want to marry a Japanese woman within a year!
Speed Dating Preregistration: Register now, and you will receive the info early.
https://meetjapanlady.com/event.html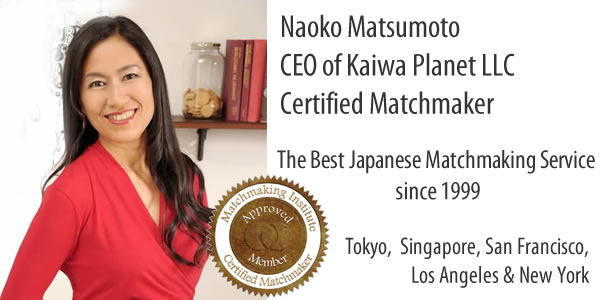 Dating and Matchmaking Service for Single Professionals and Japanese Women Established in 1999
We have been working as professional Japanese matchmakers for 18 years. We look forward to assisting you in finding your Japanese wife. Please click below to make an appointment for a Free Skype consultation if you are truly interested. We are happy to make an appointment with you after you have created your own profile. https://meetjapanlady.com/company.html

Naoko Matsumoto
CEO and Your Personal Matchmaker
Traditional Japanese Matchmaker