Meet and Greet with Japanese Women in New Jersey on Sept. 19th
Tips for Men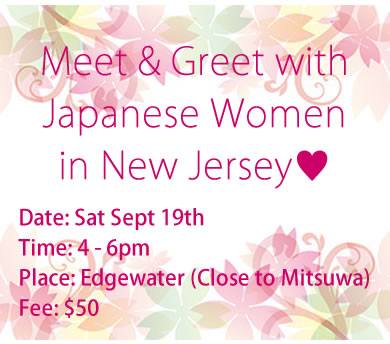 Meet and Greet with Japanese Women in New Jersey on Sept. 19th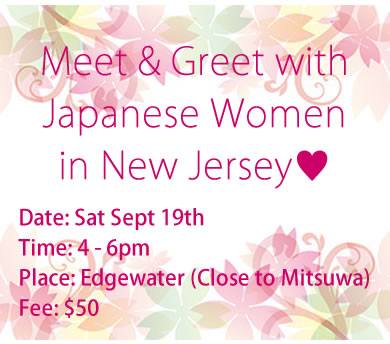 We would like to announce TJL's Meet and Greet with Japanese Women in New Jersey on Sept. 19th. This is NOT a Speed Dating event; rather this is a Slow Dating event that allows for real conversations.
We do not invite too many people at one meet and greet event, so this is a great opportunity for men to talk with Japanese women in a relaxed atmosphere.
Generally speaking, at a Speed Dating Event, a few men who are super extrovert type or a few women who are like models will enjoy it and perform well. However, most people are not like that so it can be a disappointing event for many. There are many different types of single professionals who have unique personalities and are attractive in different ways.
Our Meet and Greet with Japanese Women Event is a great opportunity to meet and talk with Japanese women in real, meaningful conversations where you really get to know people.
As one of the hosts, we would like to introduce Lisa who is a Japanese woman who had married an Italian American. She had been loved by her husband for many years, but suddenly one day her husband passed away. She lost everything at that time. Living in NYC/NJ by herself without her husband for a long time, she said she received many kind people's help. Now she would like to support single gentlemen and Japanese women in finding their forever love.
Lisa and I have just started the Slow Dating Movement in New Jersey (Edgewater area). Hopefully, this event will help single men and women who really want to meet a lifelong partner.
If you are interested in our Meet and Greet with Japanese Women in New Jersey on Sept 19th, please contact us at https://meetjapanlady.com/company.html .
Here are the details:
Date: Sept 19th
Time: 4:00-6:00pm
Place: Edgewater, New Jersey (Near Mitsuwa Super Market)
We are always happy to assist you!
Naoko Matsumoto: CEO and Your Personal Matchmaker
Fee: $50