Follow Our 3 Step Questions for Your First Meeting and Japanese Women Will Appreciate You
Blog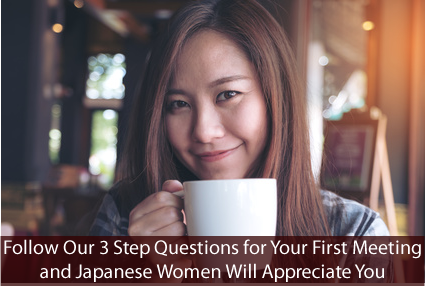 Follow Our 3 Step Questions for Your First Meeting and Japanese Women Will Appreciate You
Many of our male clients have told us they plan to visit Japan to meet our female members, and that is GREAT!  We have just announced about our Speed Dating Event in Tokyo this summer. Some of them have told us, "I can't wait until summer!"
They want to travel to Japan more than once a year. That's FABULIOUS!
Today, I would like to share our suggested 3 Step Questions for your first meeting to ensure that Japanese women will appreciate you.
After our members' first meetings, we receive feedback from both male and female members. Some Japanese women send us negative feedback, like, "He didn't ask me any questions.", "I was the only one asking questions.", and "He just answered my questions, and never said 'AND YOU?'" Because of the lack of questions, the conversation didn't continue. Often we hear our female members comment, "I didn't feel that he was interested in me." and "I am tired of being the only one taking the initiative in the conversation with him."
In these instances where there is a lack of questions asked of her, she will tell us that he is "DECLINED". So, even though she and him had been communicating very well by email and Skype, she has decided to stop communicating with him after the first meeting.
It is very unfortunate when she decides to decline him just because of a little misunderstanding. In order to ensure a greater success at connecting with her during your first meeting, we recommend that you follow our three step questions.
Step 1: Show Her Your Interest in Her
Before the first meeting, list 5 important questions that you would like to ask her. Why 5 questions? If you ask her too many questions, she will feel uncomfortable. She will feel that she is being interrogated by the police or is being given a lecture by her boss. Also, your questions during your first meeting shouldn't be too personal. For example, do not ask her about her ex-boyfriend(s), when she lost her virginity, how much money she has saved, or if she likes President Trump are all poor questions to ask at the first meeting. The point is to show her your interest in her by asking her easy questions, so you and she get to know each other better. When you do, you and she will enjoy a relaxed, fun time with meaningful conversation.
Step 2: Show That You Care About Her Family
Make it a point to ask her about her family. For example, how are your parents? Where do your grandparents live? How often do you visit your family? Is your family concerned that you are thinking about relocating to a different country?
Step 3: Listen to Her Questions Carefully, Answer Them, and Ask Her the Same Questions
You will be asked some questions from her. After answering her questions, we recommend that you ask her the same questions. Most likely, she expects you to ask her the same questions. When you do, she will feel happy to answer them.
When you ask about her, she will feel that you care about her. When you ask about her family, she will appreciate you even more. When you ask her the same questions she asked you, she will be very interested in you! Please try our 3 Step Questions on your next visit to Japan. The point is to enjoy your conversations with her and create a meaningful relationship with her by knowing how to ask real questions.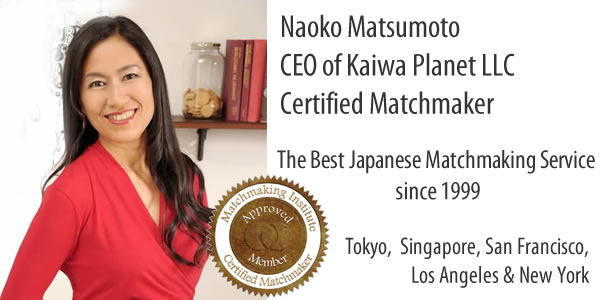 Traditional Japanese Matchmaker is the best dating and matchmaking service in Japan that is specialized for single professionals and Japanese women established in 1999. Please click the link below to sign up for TJM's Free Registration if you are truly interested. We look forward to assisting you in finding your Japanese wife.
Naoko Matsumoto
CEO and Your Personal Matchmaker
Traditional Japanese Matchmaker