Help Her Visualize Your Future ♥ Together
Tips for Men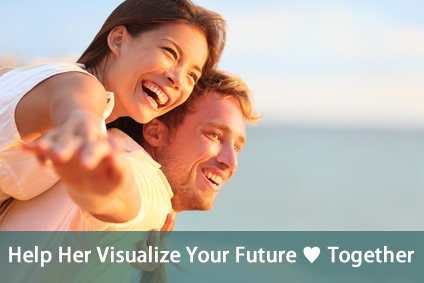 Help Her Visualize Your Future ♥ Together
Our male members often ask us,
"How can I get to be in an exclusive relationship with her?"
In most cases their conversations are not that interesting for her, especially when a male member communicates only his desires and wants and does not truly give of himself and ask what she desires and wants. Men often appear selfish in this way.
Some of our female members say,
"All he talks about is food and he does not include me in his conversation."
She said their conversation went like this, he said that he knows many popular restaurants in Tokyo, and his topics are always about what he wants to eat when he visits Japan. however, he never asked her if she wants to eat out with him and enjoy the dinner together.
So, from her perspective, he is not thinking about her that much, he cares more about the food experience and he could be dining out with anyone, not her in particular. This tells her that he cares more about himself. She feels lonely talking to him since he does not include her in his thoughts or tell her he wants to be with her. He is like the most unromantic person you can imagine. However, women still like romance.
And then she stops communicating with him.
"Why?"
She cannot visualize any future with him. Since he is simply talking about himself, he is sending the message that he does not care about her. Going to a restaurant with him sounds like a lonely and boring chore if all he does is talk about himself.
So, men, listen up!!! If you are guilty of treating your date like an accessory object and nothing more, you have got to change if you want to have a meaningful, long term relationship! If you like her and want to be with her, you have got to communicate this desire to her. Tell her that you want to be with her and what you would like to do together. Tell her what she means to you and why you want to be with her. And, after a date, tell her how you enjoyed your date together and why.
Help her visualize your future date together by sharing your idea of what your date will be like. If you are talking about food, it would be nice to say that you would like to go to a restaurant with her and ask her where she would like to eat. Let her choose a restaurant to really let her feel that you care about her. If you really want to create an exclusive relationship with her, the topic in your conversation with her should be more detailed and related to her. And most importantly, you have to tell her that you care about her and why.
If you are talking about painting the wall in your kitchen, ask her what color she likes, and let her choose the color she likes. She will feel that you really care about her since this implies that you care about her opinion and that she might use the kitchen in the future.
If you are talking about having coffee in the morning, tell her that you would like to have morning coffee with her in the future.
If you are talking about buying a new car, ask her if you can invite her on a driving date to see the blue ocean, and she will be able to visualize a beautiful romantic date with you.
Although it might seem like a small thing in your conversation, including her in your conversation makes a huge difference and shows you care about her and are willing to share and give of yourself. You will make her happy if you let her clearly imagine a wonderful future together with you. And connecting with her in this way in your daily emails will do a lot to build an exclusive relationship with her.
You can start this conversation today!
We are always happy to assist you!
Naoko Matsumoto:CEO and Your Personal Matchmaker