"The toilet paper is running out faster after you came to my house." – He said.
Blog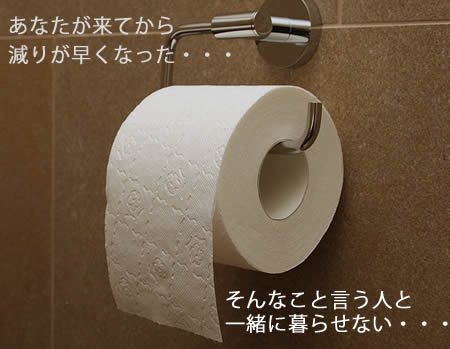 "The toilet paper is running out faster after you came to my house." – He said.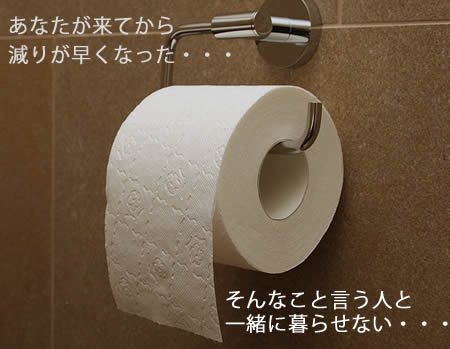 One of our female members visited a man in Los Angeles who was introduced to her by a friend of hers. He is NOT one of our male members.
After staying at his house for a few days, she was told by him,
"The toilet paper is running out faster after you came to my house."

"Besides," he continued,

"There is the Washlet (TOTO), so you do not need to use much toilet paper."
And he continued to lecture her.
She didn't like him to complain. And, she understood that it is more important for him that she lives frugally with him than creating a positive relationship with her.
No matter how much toilet paper she used, she didn't want him to say anything about it since it hurt her feelings.
She shared her story with us after returning from her trip.
"Since I was concerned about his happiness, but I bought an ample amount of consumable supplies, such as toilet paper and toothpaste, and gave them to him before leaving his house."
Some people would have seen this seemingly unhappy incident as something to be avoided. However, our female member realized that the toilet paper was simply an expression of their incompatibility. Therefore, she had no reason to blame him for what he said to her. So, this experience was fortunate since she was able to realize that they were incompatible before deciding to get married.
Even though he told her, "I like you!"
She honestly realized that he did not care for her.
As a result of this experience, she said good bye to him and moved on to start finding a better relationship.
She met a new gentleman through TJL's service last December, and she said they are getting along well. He cares for her very much and she feels happy.
I am looking forward to hearing great news from them soon!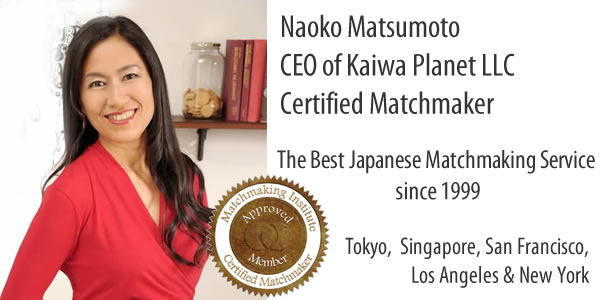 Traditional Japanese Matchmaker is the best dating and matchmaking service in Japan that is specialized for single professionals and Japanese women established in 1999. Please click the link below to sign up for TJM's Free Registration if you are truly interested. We look forward to assisting you in finding your Japanese wife.
Naoko Matsumoto
CEO and Your Personal Matchmaker
Traditional Japanese Matchmaker