Happy Valentine's Day with Your Japanese Girlfriend
Tips for Men
Happy Valentine's Day with Your Japanese Girlfriend
Happy Valentine's Day!
You may not know that in Japan Valentine's Day is the day that women give men a gift.
The gift is generally chocolate. It is not always a romantic custom, but a kind of obligation at the workplace. Women give their bosses and male colleagues chocolate as a gift.
For Japanese women Valentines' day is not that happy. They don't expect to receive flowers from men.
If you have a Japanese girlfriend with whom you have been corresponding with for a while, it would be nice to celebrate Valentine's Day together. She will be surprised and feel very happy!
We understand that it is not easy for you to send gifts if she lives far from you, but there are some things that you can do for her in spite of the distance.
Send her flowers and/or chocolate to really surprise her!
Call her and tell her "Happy Valentine's Day". Your real voice will make her feel VERY happy.
Write a warm greeting email to her.
Send your own picture with a big smile.
Send her a nice e-card with a beautiful picture.
Send her a cute LINE stamp.
If you do something special for her for Valentine's Day it will be a special day for both you and her.  Just a little thing is fine. She will feel that you really do care about her.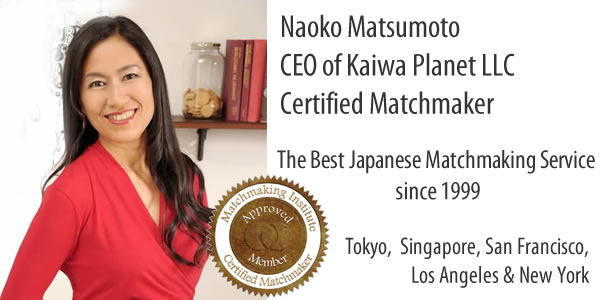 Dating and Matchmaking Service for Single Professionals and Japanese Women Established in 1999
We have been working as professional Japanese matchmakers for 18 years. We look forward to assisting you in finding your Japanese wife. Please click below to make an appointment for a Free Skype consultation if you are truly interested. We are happy to make an appointment with you after you have created your own profile. https://meetjapanlady.com/company.html

Naoko Matsumoto
CEO and Your Personal Matchmaker
Traditional Japanese Matchmaker