#100 Meet Japanese Women in TOKYO on July 11th
Events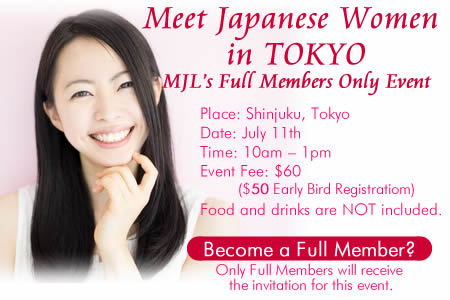 #100 Meet Japanese Women in TOKYO on July 11th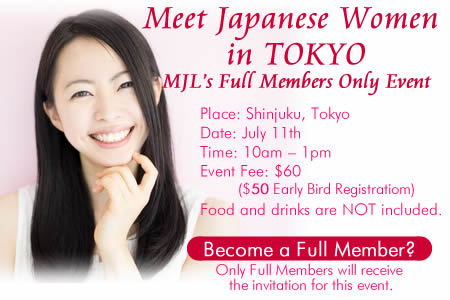 We are very excited to announce TJL's Meetup Event in Tokyo on Sat. July 11th, 2015. This meetup event is private and exclusive for TJL Full Members only. When you become a Full Member, you will have the opportunity to join this exclusive event and meet our Japanese Beauties.
Meet Japanese Women in TOKYO Event is Unique because…..
Meet Sincere Japanese Women ONLY:
You can meet more than 10 Japanese women at one visit. They are all interviewed and confirmed that their purpose is a Happy Marriage. So if you are sincerely looking for a lifelong partner, this is a wonderful opportunity to join.
Learn Japanese Culture and Ways of Love:
Some of our male clients are facing difficulties when starting to communicate with Japanese women. If struggling, this is a great opportunity to learn Japanese culture and ways of love.
Learn From Happy Couples:
You can hear real stories from some of our successful couple clients. Testimonials with their real voices will help you to visualize your own happy marriage!
Schedule Individual Meetings with Japanese Women:
When you visit Japan, you can schedule up to 3 individual meetings with our female members. If you wish for more than four meetings, we are happy to arrange for an additional fee.
Meet Our Matchmakers in Person:
Miyata, Luna, and Naoko will attend the event. Meeting our matchmakers in person will help you to understand who we are and will help us to understand who you are, which facilitates better and more appropriate matchmaking.
If you are goal oriented toward a happy marriage, TJL's Meetup Event is the best place to join. We look forward to seeing you in TOKYO on July 11th 2015!