Meet and Greet Japanese Women in Tokyo in Summer 2023
Blog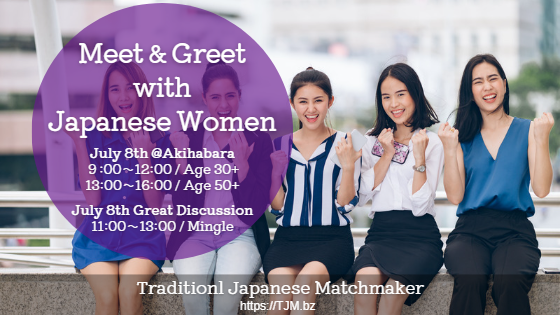 Meet and Greet Japanese Women in Tokyo in Summer 2023
We are excited to announce the details of our 'Meet and Greet Japanese Women' event, taking place in Tokyo during the summer of 2023.
Click the yellow buton below to signup the event
↓ ↓ ↓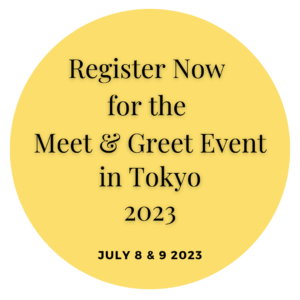 🌸 🌸 🌸
TJM will be hosting two events on Saturday, July 8, 2023, and Sunday, July 9, 2023.
The nearest stations to the venue are JR Akihabara Station and Iwamotocho Station. Both are within a 5-minute walk from the station.
On Saturday, July 8, 2023: Akihabara-1
This is the OMIAI Matching, a form of structured speed dating. At the event, you will have the opportunity to engage in a one-on-one conversation with each woman for 10-15 minutes.
The event is organized by age groups.
・From 9:00 to 12:00: For those in their 30's and above.
・From 13:00 to 16:00: For those in their 50's and above.
On Saturday, July 9, 2023: Akihabara – 2
11:00-13:00
We will be hosting an event called "GREAT DISCUSSION" where attendees can freely mingle and converse without the constraints of age. While this isn't a matchmaking opportunity, it presents a wonderful platform to understand the thoughts and viewpoints of Japanese women.
You can engage with women on topics related to romantic relationships and views on marriage. You'll have the opportunity to field questions from the ladies or ask your own.
We plan to invite some couples who found their partners through TJM. They will be there to share their joy and happiness, providing firsthand accounts of their experiences.
🌸 🌸 🌸
Participation in both events is reserved exclusively for full members of TJM. To take part in these events, you must hold a full membership with TJM.
Those who wish to participate, please apply from here.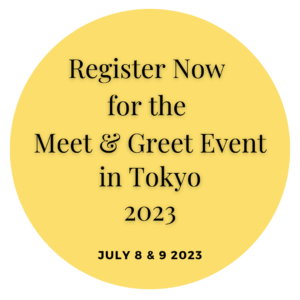 What distinguishes our events from other online dating events?
Only Japanese women who are registered with our TJM matchmaking agency and are keen on finding a good match within the year are participating. It is an exclusive event for women who have a strong desire to get married if they can find a good match.
Marriage Mind Only:
As people who are only interested in casual dating do not participate, there is a high possibility of reaching marriage quickly if both parties share mutual feelings. If your goal is 'marriage', you will be able to progress towards your objective more rapidly.
Meet Your Matchmakers:
Additionally, matchmakers from TJM will be present at the event. Your active participation allows these matchmakers to get to know you better. The more they understand about you, the greater the chances of making a successful match.
Naoko, Luna, and Ayako are eagerly looking forward to meeting you in Tokyo on July 8th and 9th!
We hope that this event will bring about a fabulous change in your life and create extraordinary moments!
Naoko Matsumoto
Founder & CEO
Traditional Japanese Matchmaker (TJM)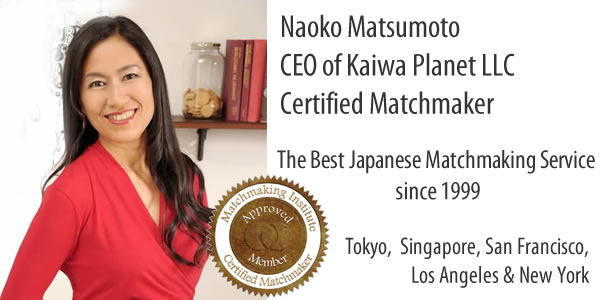 Traditional Japanese Matchmaker is the best dating and matchmaking service in Japan that is specialized for single professionals and Japanese women established in 1999. Please click the link below to sign up for TJM's Free Registration if you are truly interested. We look forward to assisting you in finding your Japanese wife.