#094 How Long Will It Take to Meet My Japanese Wife?
Tips for Men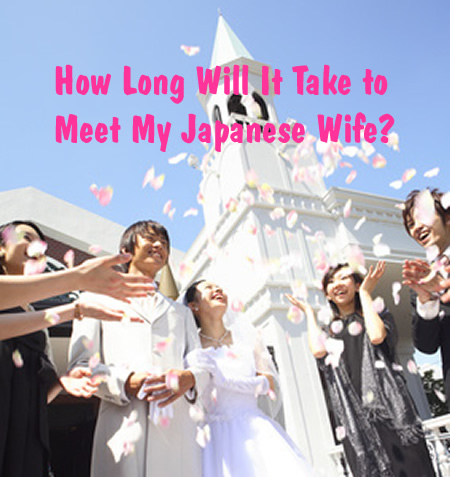 #094 How Long Will It Take to Meet My Japanese Wife?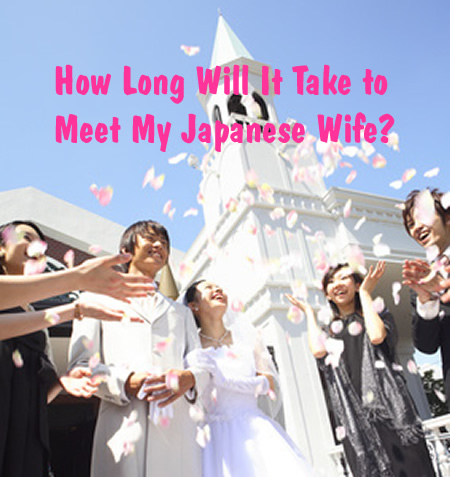 How long will it take to meet my Japanese wife after becoming our member?
We often receive this question from our clients.
I understand that gentlemen who have never used a matchmaking company are concerned about the cost and time required. There are several points to keep in mind. First, our company is not a traditional online dating site, which has members who do not have any goals and they are playing around. In contrast, we are a marriage introduction service. All of our members choose our service since they are sincere, have specific goals in mind and they really want to get married now.
Secondly, we offer a more personalized relationship service where we offer assistance to our members to help them achieve their goals of marriage. We offer matchmaking service and we talk to all of our members monthly.
Well, here is an example of how quickly it can go. Last month (Dec 2014), one of our new male Full Members, was Mr. S in the US who is in his 60's. He was introduced to one of our female members who is in her 50's. He met her in the same month, and soon after that he wrote to us and asked how to obtain her fiancé visa.
Mr. S has already proposed, and she was happy to accept it.
So, this happy couple was able to become a couple within just one month! This is the quickest record since our company was established in 1999. We are delightfully surprised and happy for them!!!
Likewise Mr. S in the USA, Mr. R a gentleman who is his 60's became our Full Member last fall is successfully corresponding with one of our female members who is in her mid-40's.
Mr. R visited Japan at the end of 2014 and enjoyed his New Year's vacation in Tokyo with her.
Yesterday, I talked with Mr. R at his Monthly Skype Session. BTW, we include a monthly skype session in order to follow up with both male and female members.
He shared the many photos taken of him and her in TOKYO by iPad.
The photos show Hatsumode – it means that visiting a shrine at the beginning of the year, Osechi Ryori, a Japanese special prepared New Year's food which is made by her and beautifully arranged in lacquer boxes, Tokyo tower, tea ceremony experience, and other photos.
At that time, she had caught the flu, and was NOT 100% recovered. So, he postponed his flight to Japan for 5 days because he really was concerned about her health. Anyway, he and she really enjoyed being together at the beginning of 2015, and they continue to correspond with each other with positive thoughts toward reaching their goal of marriage.
Mr. R said that he talked with her on Skype for 3 and half hours last time. It is challenging for all our member couples to continue skype sessions on a regular schedule since there is a 17 hour time difference between Mr. R and her. However, both of them make the effort since they feel that the ultimate outcome will make it worth it.
I also talked with Miss A, who is corresponding with Mr. R, at a recent monthly Skype session.
It sounds like everything is going well for them and we look forward to hearing good news from them soon!
By the way, Mr. R has been a Full Member for only three months and he decided to be in a committed relationship with Miss A. At the time that I talked with Mr. R, it was the fastest record since our company was established in 1999. However, this record was recently broken by Mr. S this year.
I told Mr. R about TJL's committed relationship record, and he laughed. He said the speed if not as important for him; rather it will happen when the relationship is right. And I agree with him.
Some people may take time seriously, and some people may make decision quickly. The most important thing is to keep in touch with her in order to create a great relationship.
In conclusion,
How Long Will It Take to Meet My Japanese Wife?
It ultimately depends on whether you feel chemistry for each other and whether the relationship has substance and staying power. So, your feelings, past experiences, and current circumstances will influence the decisions that both of you make.
You will need to see carefully whether her feelings are the same as your feelings. If NOT, you will need to open mildly think, discuss, and share the reasons why.
If your purpose is "marriage", it is faster to meet women who are focused on "marriage". Playing with people with no goals on online dating sites will not lead anywhere.
Additionally, both Mr. R and Mr. S are in their 60's. It is clear that how soon you will you're your Japanese woman doesn't depend on age.
In order to avoid wasting your valuable time, we recommended that you join TJL's service where you are able to find true love with a Japanese woman since our members are ready for marriage.
We are always happy to assist you!
Naoko Matsumoto: CEO and Your Personal Matchmaker