"We got Married" on Valentine's Day!
Blog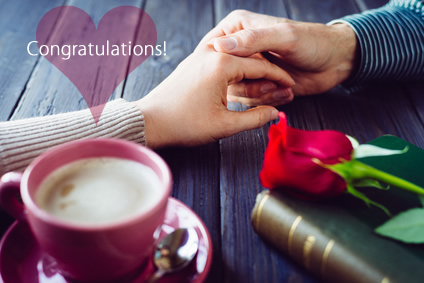 "We got Married" on Valentine's Day!
 "We got married!" was the headline from two emails we recently received from two of our couple clients on Valentine's Day. One is from Canada, the other is from Guam.
 Congratulations!
Here is the message from one of our client couples, Michael  who lives in Guam.

We are in Japan now. We got married on Valentine's Day!  We will go on our honeymoon later this summer, when it is warmer in Europe.
When we get back to Guam, tomorrow, I can start the process for my wife's Spouse Visa. Starting our new life together in Guam!!!
I am so thankful for you and Kaiwa(TJL). It was the first service that I joined and it was perfect.
Please pass my thanks along to everyone there. Kaiwa(TJL) made it possible to find the woman of my dreams. I look forward to spending a wonderful lifetime together with Norie
(Michel  in Guam)
Here is the message from Norie which is written in Japanese. I saw their marriage photos on their FB. They are so beautiful!
Kaiwa-USA 松本直子さま
この度2015年2月14日(バレンタインデー)にかねてから交際中のマイケル ウィリアムさんと入籍致しました。
日本での入籍で 今後は配偶者ビザの手続きをしてまいります。彼と検討した結果、フィアンセビザよりもスパウスビザでグリンカードを取得してまいります。
白人男性と結婚したいと願い17年 長かった。にもかかわらずkaiwa-usaのメンバーになってから1年ちょっとでマイケルさんと出会い、結婚に至りました。 ほとんどの時間をデーティングサイトに費やして、半ば結婚をあきらめていた私。
直子さん、留奈さん、宮田さん、私が結婚に至るまでたくさんの方々のお世話になり、心から感謝申し上げます。 (Norie in Japan)
Thank you for your comments!
I am making a testimonials page that will introduce our successful members' real voices on MP3 files in order to encourage our current members who are still on their journey of finding their right partners.
I am also going to interview the couple in Canada after they have completed filing a spouse visa, and she has safely relocated to his home. They took more than 3 years to reach the goal. You may think it took a long journey, however, both he and she needed a certain time to create a comfortable relationship. After that, marriage and the wedding was natural and easy.
We really care about our members. Therefore, we believe in guiding our members to marriage and providing support to assist in maintaining happy marriages after marriage. We are not just a matchmaker, rather we keep in touch with our married member clients to provide empathic support when they need it. That is one reason our divorce rate is zero percent since 1999.
Congratulations to both couples. We wish you all much love in your marriages!
Naoko Matsumoto
Founder & CEO of Traditional Japanese Matchmaker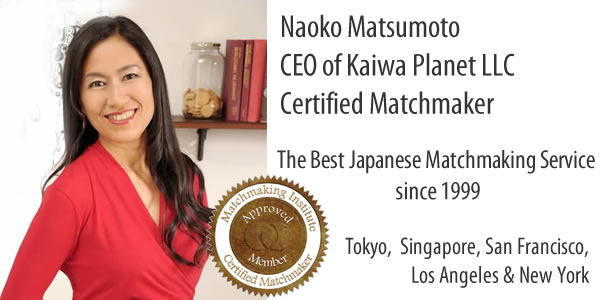 Traditional Japanese Matchmaker is the best dating and matchmaking service in Japan that is specialized for single professionals and Japanese women established in 1999. Please click the link below to sign up for TJM's Free Registration if you are truly interested. We look forward to assisting you in finding your Japanese wife.
Naoko Matsumoto
CEO and Your Personal Matchmaker
Traditional Japanese Matchmaker