Meet More Than 20 Marriage Minded Japanese Women at Our Event – It Is You Who Make Miracles Happen!
Tips for Men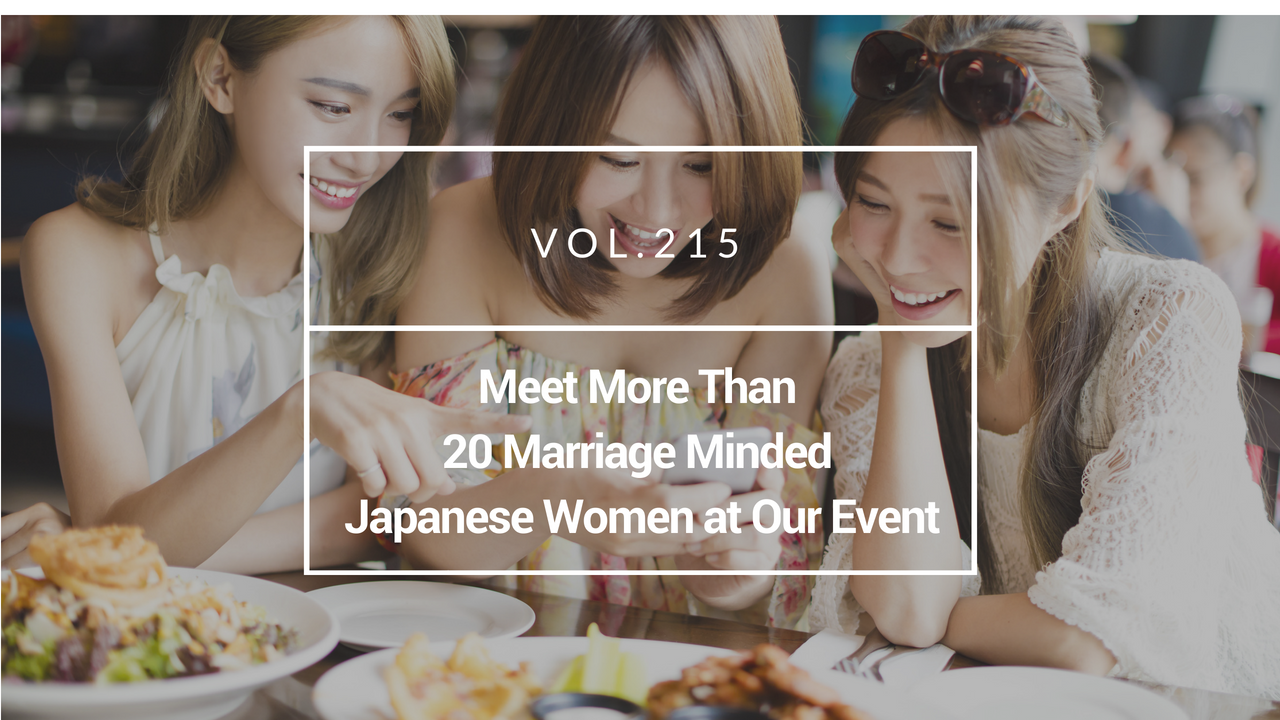 Meet More Than 20 Marriage Minded Japanese Women at Our Event – It Is You Who Make Miracles Happen!
We received a phone call from a gentleman in Los Angeles at the end of April. He said that he and his cousin would travel to Japan, and asked if there are nice Japanese women for his cousin. We said "YES! Of course! " After talking with him on the phone, the cousin signed up for our membership and we selected some of our nice Japanese female members who might be a match for him. They visited Japan in early May and stayed in central Tokyo for several days. We arranged five meetings with our nice Japanese female members for the cousin. His schedule must have been very busy since he dated with these women during their short stay in Tokyo.
If they hadn't have called us before their trip to Japan, their trip would have most likely just been a simple sightseeing tour of typical tourist sites like AKIHABARA, RIPPONGI, or ASAKUSA. It might have been a fun trip and a male bonding experience. However, he most likely would not have met any women for marriage. His brave decision to call us before their trip may have changed the cousin's life for the better.
After they came back to the US, we had a Skype conference call with the cousin to follow up. As a result, he declined two women and he decided to keep in touch with three women by email and Skype. Also, we received SUPER POSITIVE feedback from the women who dated him in Tokyo, so I believe that the matchmaking was completely successful. Long distance communication may not be easy for all of them, and that is one reason why we provide various methods of support for our male and female members. Our full members enjoy one on one Skype consultations with our matchmakers on a monthly basis.
If you are planning to travel to Japan, let us set up dates with Japanese women for you.
As we have interviewed all of our full female members, we are able to select beautiful, sophisticated, and marriage minded women who match your preferences. Our service offers a more secure and efficient method to finding your future wife than spending a long time doing online dating by yourself.
We customize your meetings at any time you travel to Japan, but we especially would like to invite you to come to Japan this summer. We are going to host our speed dating event on July 7th. You are welcome to join our event, and also we are happy to set up individual meetings for you during your stay in Tokyo before and/or after our speed dating event. So, you are able to meet even more Japanese women during your trip. The event is for male and female members only, so you can meet marriage minded women only. Approximately 20 women will participate in the event. It means that you can meet and talk with many Japanese women in one day. We recommend that you join our event since this is the most effective and efficient way to find your right person.
Sign up today for our Speed Dating Event on July 7th and you will be able to arrange individual meetings with your matches during your stay in Tokyo!
It is up to you to make your own miracles!
Date: Sat July 7th 2018
Time: 15:00-18:00
Place: Harajuku Area, Tokyo
Here is the link for the event reservation.
https://meetjapanlady.com/form_tokyo2018/
If you reserve in May, you will receive an Early Bird discount.
If you would like to know about reasonable hotels near the event place, please let us know your accommodation budget. We are happy to make hotel suggestions for you.
More than 20 Japanese women joined our event last year. You can have meaningful conversations with all female members who join the event. It is a great opportunity for you to meet many nice, single Japanese women in one place. Also, when you visit Japan, we are happy to setup individual meetings for you with our female members if you would like to meet specific women privately.
If your objective is "marriage", we highly recommend for you to join our annual Tokyo Event. Our female members are sincerely looking forward to meeting you at our event!
Speed Dating Event in Japan on July 7th 2018
If you haven't planned to visit Japan, we recommend to plan on July 7th 2018. We will host a speed dating event in Tokyo, so you can meet many beautiful Japanese women in Tokyo in one day. Also we can arrange individual meetings for you. I am sure this is a great opportunity for you if you really want to marry a Japanese woman within a year!
Speed Dating Preregistration: Register now, and you will receive the benefit.
https://meetjapanlady.com/form_tokyo2018/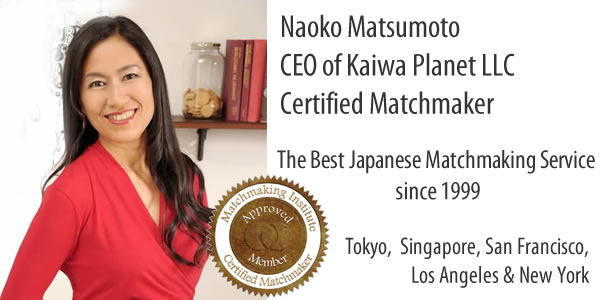 Dating and Matchmaking Service for Single Professionals and Japanese Women Established in 1999
We have been working as professional Japanese matchmakers for 18 years. We look forward to assisting you in finding your Japanese wife. Please click below to make an appointment for a Free Skype consultation if you are truly interested. We are happy to make an appointment with you after you have created your own profile. https://meetjapanlady.com/company.html

Naoko Matsumoto
CEO and Your Personal Matchmaker
Traditional Japanese Matchmaker