Visit Japan Now! – Intensive Plan Starts
Tips for Men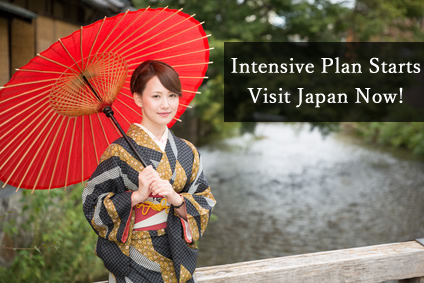 Visit Japan Now! – Intensive Plan Starts
Intensive Plan Starts – Visit Japan Now!
Do you want to meet Japanese women who are marriage minded?
In our unique program,
we set up meetings with Japanese women for you when you visit Japan.
Our female members feel more comfortable meeting with you for the first time in Japan than in your home country. All you need to do is to decide to visit Japan to meet our Japanese female members.
Many of our male members are more successful with meeting their Japanese partner when they decide to visit Japan through our program. We setup all meetings based upon your criteria of your ideal Japanese wife. We follow up with our members to hear feedback after the first meeting, so as to improve their results.
1. Let us know your "Visiting Japan Plan" before making a Reservation.
Within 3-6 months after you have started communicating with your date, it would be nice to meet with her in person. When you decide to travel to Japan to meet her, please let us know "When" you are going. We are happy to assist you in finding reasonable and convenient hotels in Tokyo.
2. We setup a maximum of three of your first meetings in Japan.
Basically, we setup three meetings per one trip. If you would like to meet more than 3 women on your trip, we are happy to make arrangements at an additional cost per meeting. We highly recommend meeting a maximum of three women on each visit, and you can date all three a couple of times while staying in Japan. Being introduced to just a few dates typically works better than meeting too many women on one trip. We recommend seeking quality over quantity when spending time with Japanese women.
3. How giving and receiving "Feedback" helps you. And our follow up assistance continues after your first meeting.
After meeting in person with your Japanese women candidates, you will receive feedback from them. You will know if your date enjoyed meeting with you. Also, you can tell us your feedback from your dates in Japan. If you do not feel chemistry with her, you don't have to tell her directly. We are happy to follow up with her and tell her in a polite way. So, both you and she are not put in an awkward position. Receiving feedback soon after dating makes your decision making easier and quicker. Since you will know the results sooner, you can take the next step, and it helps you to achieve your goal without wasting your time.
Our Intensive plan is great for you if you are always busy and keep procrastinating your opportunity to meet Japanese women. Plan to visit Japan now and we will set up your dates in Japan.

Naoko Matsumoto: CEO and Your Personal Matchmaker