How to Write Your Profile So That It Attracts Japanese Women
Tips for Men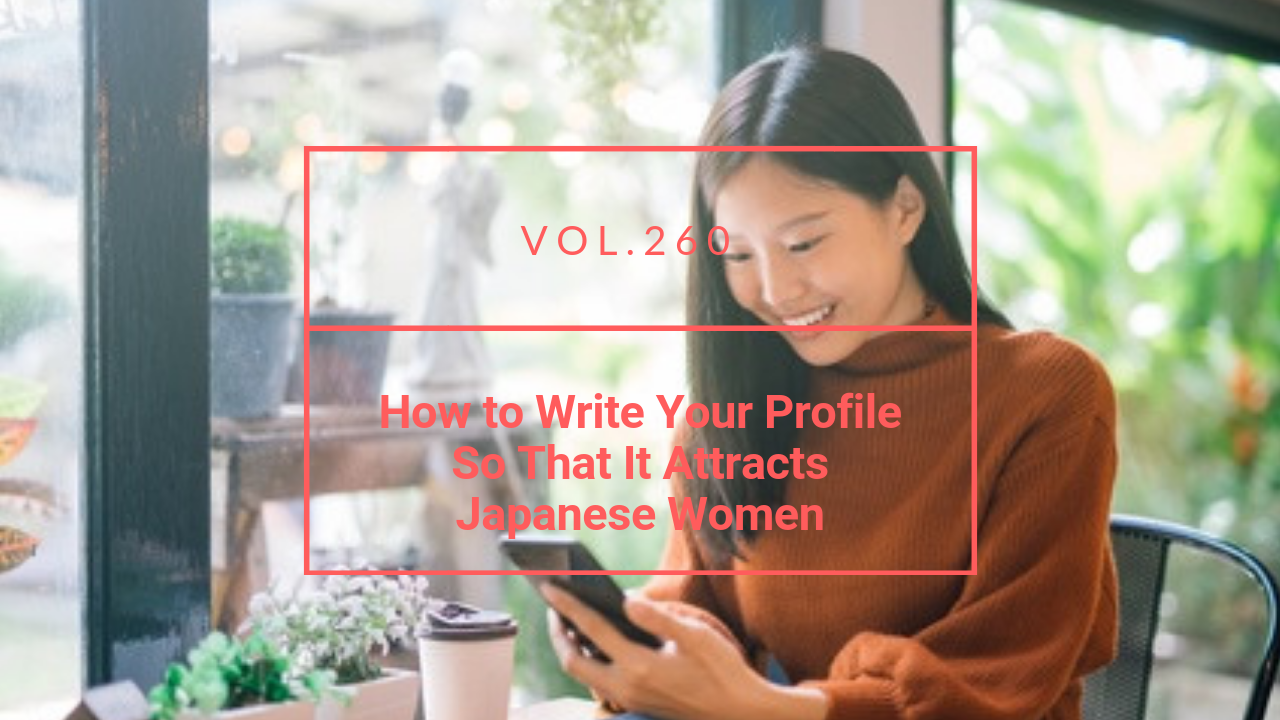 How to Write Your Profile So That It Attracts Japanese Women
"What are the three most important elements in a partner?"
This is one of the questions in TJM's member profile questionnaire.
You may fill it out as below.
LOOKS

Beauty

Slenderness
We understand that all of our male members want to meet beautiful Japanese women, so they fill out their desires in their profiles. However, your profile is not the place to write what you want. Your profile is the tool to attract beautiful Japanese women.
When a Japanese woman reads your profile and finds that you say that "her appearance" is the most important element, she may hesitate to choose you as a future husband. In her understanding, you don't see her personality and inner beauty. Your profile gives her a bad impression.
Actually, you can see our female members' profiles and choose a beautiful woman with your preferences. Therefore, it is not necessary to say that her looks is the most important criteria in your profile.
On the other side, many Japanese women fill out the answers to this question as below.
High Income

Financial Stability

LOOKS
How do you feel when you have found these kinds of words in her profile? Would you like to choose a woman like this?

Money is an important criterion for some women, perhaps even many women when thinking about marriage. This may be true and no one can blame some women for seeking this. However, a woman's profile like the example above doesn't attract men because men, even rich men, do not want to be chosen solely for their income.

We advise both men and women to revise their profiles to make it more attractive to their future spouses.
What is a better profile? Here is a sample listing of positive traits that will attract both our male and female members.
Good Personality

Curiosity

Adventurous

Kindness

Generosity

Compassion

Open minded

Honesty
A man I interviewed in NYC said, "I am looking for a woman who does not tell a lie." I was so impressed with his words and felt such a good feeling about him because he didn't say "looks" was important. I thought that he had an honest and warm personality, so we would like to introduce him to our female members who have a good personality too.
We highly recommend that you review your profile again, and if needed, please revise it to attract your ideal Japanese women!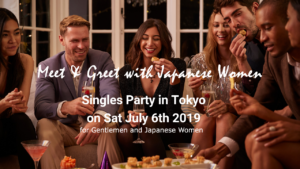 Singles Party in Tokyo on July 6th, 2019
If you haven't planned to visit Japan, we recommend planning on July 6th, 2019. We will host a singles Party in Tokyo, so you can meet many beautiful Japanese women in Tokyo in one day. Also, we can arrange individual meetings for you. I am sure this is a great opportunity for you if you really want to marry a Japanese woman within a year!
Plese click to signup for TJM's Singles Party in TOKYO 2019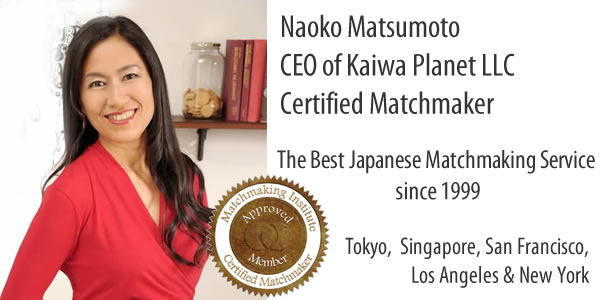 Dating and Matchmaking Service for Single Professionals and Japanese Women Established in 1999.
We have been working as professional Japanese matchmakers for 18 years. We look forward to assisting you in finding your Japanese wife. Please click below to make an appointment for a Free Skype consultation if you are truly interested. We are happy to make an appointment with you after you have created your own profile. https://meetjapanlady.com/company.html

Naoko Matsumoto
CEO and Your Personal Matchmaker
Traditional Japanese Matchmaker