Do You Accept Your Japanese Wife Visiting Japan at Least Once a Year?
Tips for Men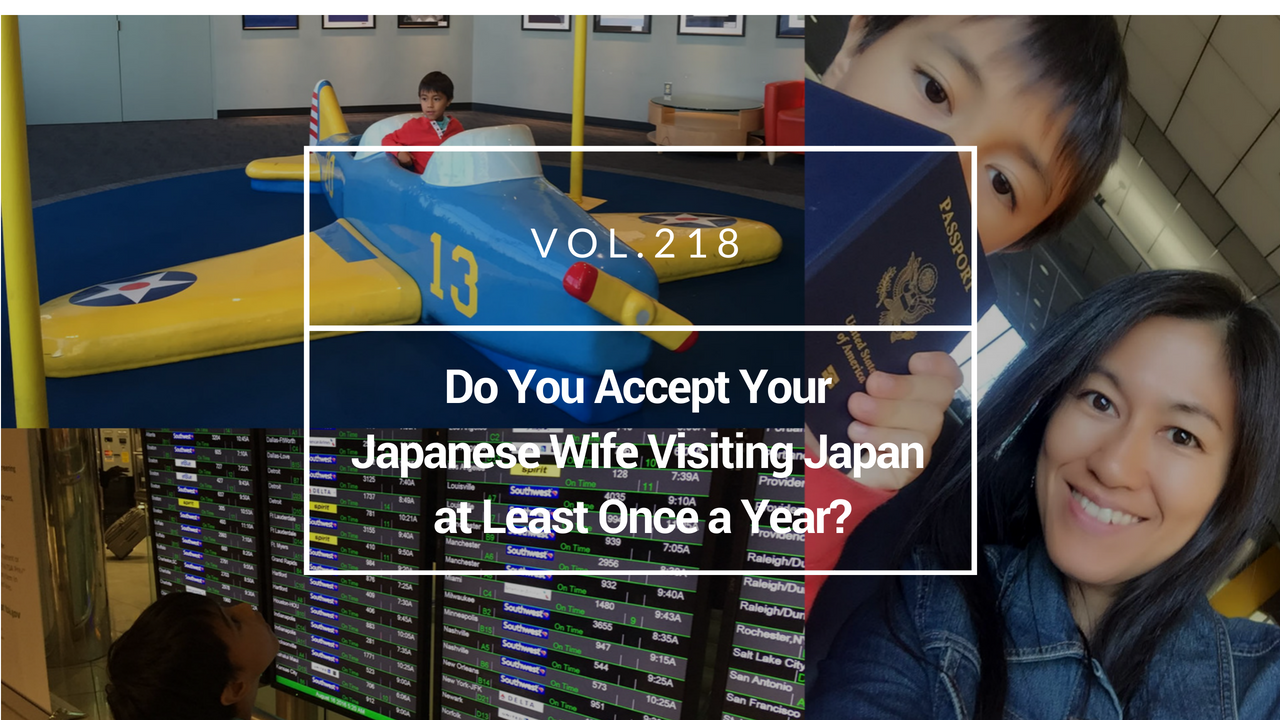 Do You Accept Your Japanese Wife Visiting Japan at Least Once a Year?
Summer vacation time is coming!
Did you know many Japanese wives visit Japan during the summer vacation time with their children? It's a huge exodus! I understand that some husbands worry that their Japanese wives will not come back to them and they don't accept their wives visiting Japan every year. However, if you and your wife trust each other, you can discuss it with her and come to a mutual agreement. There are both advantages and disadvantages of visiting Japan each year, so let's see…..
Advantages:
Japanese public schools accept your children as a student in their classes during the summer holiday. It is totally free. Going to school is a great experience for your children. They can learn Japanese language, Japanese culture, Japanese music, Japanese way of thinking, Japanese people's behaviors, and many other things.
Your children will be able to make a lot of friends, and meet cousins and relatives there. Their friendships may continue for a lifetime.
Visiting Japan is a great opportunity for her to see and take care of her parents. Because of the distance, she cannot see her parents very often. Her parents are getting older and she wants to see them while they are still in good health. Seeing one's parents is important.
Disadvantages:
Visiting Japan costs a lot. Unfortunately, the airfare in summer is extremely high in summer. For example, from east coast to Japan, it costs about $2000 per person even though that is in Y class. If you have several children, you need to prepare thousands of dollars. Who is going to pay for it? You will need to discuss this cost with her and come to an agreement.
After 20 years matchmaking experience, I have seen it all. Some husbands say to their Japanese wives "Enjoy your trip to Japan!", on the other hand, some husbands do not want to accept her traveling to Japan. There may be conflicts between husbands and Japanese wives. If you cannot accept her visiting Japan, it would be better to explain why and discuss it with her BEFORE GETTING MARRIED.
Visiting Japan is our family's annual summer event. I am sure that our son enjoys learning a lot of things in Japan. Also, I am so excited to see my family and friends in Japan!
We will leave for Japan next week. If you join our event in Tokyo on July 7th, I will see you there!
Speed Dating Event in Japan on July 7th 2018
If you haven't planned to visit Japan, we recommend to plan on July 7th 2018. We will host a speed dating event in Tokyo, so you can meet many beautiful Japanese women in Tokyo in one day. Also we can arrange individual meetings for you. I am sure this is a great opportunity for you if you really want to marry a Japanese woman within a year!
Date: Sat July 7th 2018
Time: 15:00-18:00
Place: Harajuku Area, Tokyo
Here is the link for the event reservation.
Speed Dating Preregistration:
https://meetjapanlady.com/form_tokyo2018/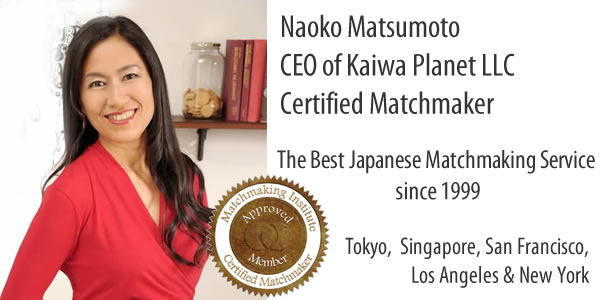 Dating and Matchmaking Service for Single Professionals and Japanese Women Established in 1999
We have been working as professional Japanese matchmakers for 18 years. We look forward to assisting you in finding your Japanese wife. Please click below to make an appointment for a Free Skype consultation if you are truly interested. We are happy to make an appointment with you after you have created your own profile. https://meetjapanlady.com/company.html

Naoko Matsumoto
CEO and Your Personal Matchmaker
Traditional Japanese Matchmaker