The 100 Important Questions to Ask Before Getting Married
Books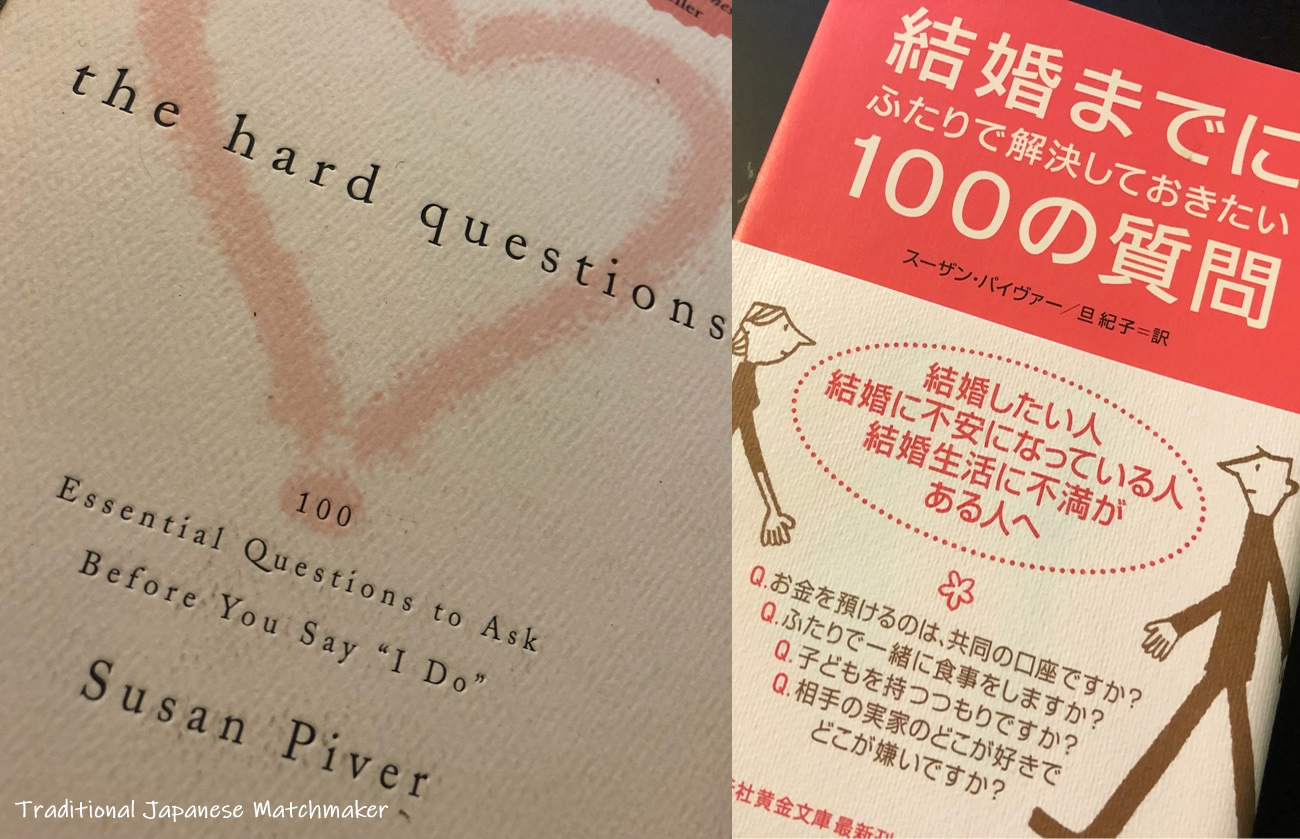 The 100 Important Questions to Ask Before Getting Married
Getting married is one of life's biggest changes. Even though you have found a nice Japanese woman and you and she are getting along, you may still be unsure if she is the right person to marry. Some people say that taking more time to learn about each other may help. The question is how long you need to understand her or when is the right time to ask her, "Will you marry me?"
I would like to recommend this book, The Hard Questions: 100 Essential Questions to Ask Before You Say "I Do" by Susan Piver.


This book is great to read when you are in a serious relationship with a Japanese woman before you and she make the big decision. You will learn how she thinks by asking and listening to her answers to 100 hard questions and vice versa.
The topics are questions about home, money, work, sex, health and food, family, children, community and friends, and spiritual life. They are all important topics, but if your relationship is still "AT A FRIEND" level, you may feel that such kinds of questions are untouchable or still too early to ask. However, if you want a "marriage relationship" you will have to ask those hard questions to create a deeper relationship than now.
In this book, the author Susan leads the readers to feel secure and comfortable.
A few weeks ago, I recommended similar book, "How to Fall in Love with Anyone" by Mandy Catron. Mandy also mentioned some questions to help in understanding each other. Her book is especially written for the early stages of relationships.
Susan's book is for men and women who want to get married, but are unsure of how to make the next step towards marriage. This book is translated into Japanese, so it would be great to practice with her by reading this book and following its methods.
Questioning and answering the same topics is a great way to assist in understanding each other. One thing we would like you to keep in mind is to not expect her to answer with the "RIGHT or TYPICAL ANSWERS". The way she thinks may not be the same as you, especially since she comes from a very different culture. It's best to accept the differences between you and her. Learning from each other's differences is how to deepen your relationship, and she will appreciate having a deeper intimacy with you. It's important that you take the time to discuss about your future together and share each other's thoughts.
If you have been communicating with a Japanese woman for more than 3-6 months, it is time to discuss detailed topics about "marriage". If you still cannot make a decision about marriage, this book may help you with this question in a natural way.
At our summer event, we will discuss some questions from the topics in this book that are related to marriage. We hope it will help you to find your right person
Date: Sat July 7th 2018
Time: 15:00-18:00
Place: Harajuku Area, Tokyo
Here is the link for the event reservation.
Speed Dating Event in Japan on July 7th 2018
If you haven't planned to visit Japan, we recommend to plan on July 7th 2018. We will host a speed dating event in Tokyo, so you can meet many beautiful Japanese women in Tokyo in one day. Also we can arrange individual meetings for you. I am sure this is a great opportunity for you if you really want to marry a Japanese woman within a year!
Speed Dating Preregistration: Register now, and you will receive the benefit.
https://meetjapanlady.com/form_tokyo2018/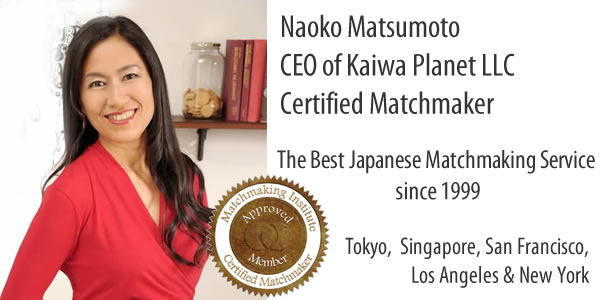 Dating and Matchmaking Service for Single Professionals and Japanese Women Established in 1999
We have been working as professional Japanese matchmakers for 18 years. We look forward to assisting you in finding your Japanese wife. Please click below to make an appointment for a Free Skype consultation if you are truly interested. We are happy to make an appointment with you after you have created your own profile. https://meetjapanlady.com/company.html

Naoko Matsumoto
CEO and Your Personal Matchmaker
Traditional Japanese Matchmaker