#085 Do Whatever She Wants To Do
Tips for Men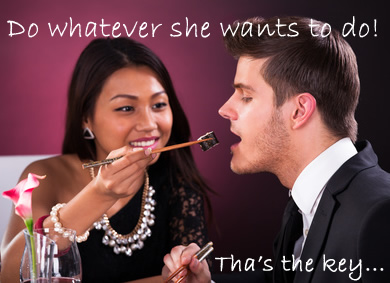 #085 Do Whatever She Wants To Do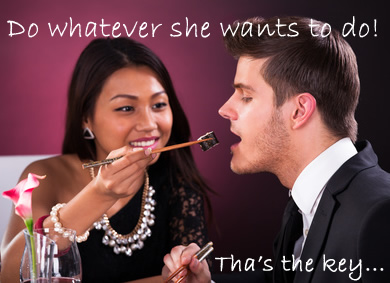 Over 15 years ago, before I established MeetJapanLady.com, I was an assistant of a Matchmaker business that whose clients were Japanese men and Russian women.
We had two offices in Russia: one in Khabarovsk and in Vladivostok. Both cities are located in far Eastern Russia, They are both a two hour flight from Niigata or Hokkaido, so many of our Japanese men visited Khabarovsk or Vladivostok in order to meet Russian women who have blue eyes, blond hair. They are beautiful and tall like models. These Japanese men dreamed of finding their one and only love in Russia. Most of our male members were single professionals such as bankers, doctors, lawyers, teachers, and even government officials.
One day, one of our male members visited a Russian beauty for their first meeting. It must have been the most impressive day for both of them; however, he made a big mistake. In Russia, dining out is very expensive. For example, lunch at a casual restaurant costs more than $50. Therefore, ordinary Russians do not eat out very often.
But she expected him to take her out for a lunch date at a nice restaurant since it was a very special day for both of them. She said, "I want to eat SUSHI," and then he answered, "I don't want to eat SUSHI because I ate it in Japan yesterday. I can eat Sushi any day time in Japan." She was very disappointed to hear his words, and shortly after that the date ended because of the ill feelings that both felt.
Of course, she was not asking for much. She just wanted to enjoy a special day with a special man. But she didn't feel that he cared for and appreciated her.
What was the purpose of his visit to Russia? If he wants to create a happy relationship with her, he should have made her happy first. He should have asked her where she wanted to go for their first date in Russia. He should have first thought of how he could satisfy her instead of how he could please himself.
This is just one example, but many people make a similar mistake today when starting a new relationship. Many people who have been single for a long time get used to living by themselves and doing whatever they want. However, in order to create a wonderful relationship, and ultimately, a happy marriage, one must learn how to care for one's partner equally, and sometimes, more than oneself. To share one's life with someone special also requires the concept of giving of oneself. This means thinking about the other person and being concerned for their welfare.
So, the fundamental law of success for happy relationships is thinking about your partner first and doing whatever she wants to do instead of doing whatever you want to do.
We are always happy to assist you!
Naoko Matsumoto: CEO and Your Personal Matchmaker