Tips for Men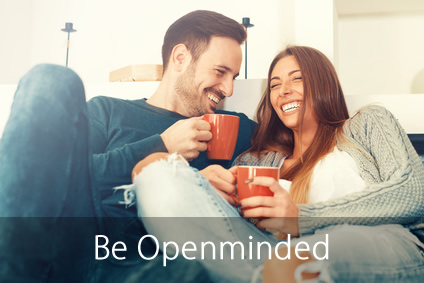 Be Open Minded
We receive much feedback from our male clients and they can be categorized into two types,  Mr. A and Mr. B.
Mr. A:
"Although I didn't feel chemistry from her profile and photos, when I met her she was wonderful and I enjoyed communicating with her. I would like to continue with her."
He thought that she was not actually his type, but he decided to meet her in person since he thought that profiles and photos do not always tell everything. He was open minded and wants to meet someone in person to help him decide more easily.
Mr. B:
"Although I really felt  chemistry from her profile and photos, when I met her she was not who I expected. I am disappointed and I would like to decline communicating with her."
He is inflexible with his criteria. He only wants to meet someone who meets his strict criteria pertaining to age range, height, location, educational background, religion, and so on. He tends to choose a woman by himself, without listening to his matchmaker's advice. He believes that his criteria are absolute, and no other choice is acceptable. He repeatedly chooses the same type of woman and achieves no results even though he has searched for a long time.
Both Mr. A and Mr. B have their own criteria. The difference between Mr. A and Mr. B is how open minded and how flexible they are. For example, if you want to meet Japanese women who are 30-35 years young, and you are introduced to a beautiful Japanese woman who is 36 years young, would you decide to meet her anyway, or would you decide to follow your strict criteria?
A person like Mr. B may take time to find his ideal Japanese woman. Struggling without any results for years and years, he will be in the older age range that is less likely to be chosen by women.  If he had more flexibility, he would obtain more opportunities to meet wonderful Japanese women.
Matchmakers recommend both male and female members to be open minded and to have flexibility. Members who are open to opportunities to meet in person are more likely to find their partner easier and sooner, and to be successful in getting happily married.
Naoko Matsumoto: CEO and Your Personal Matchmaker