Are You Looking for a Perfect Japanese Woman?
Tips for Men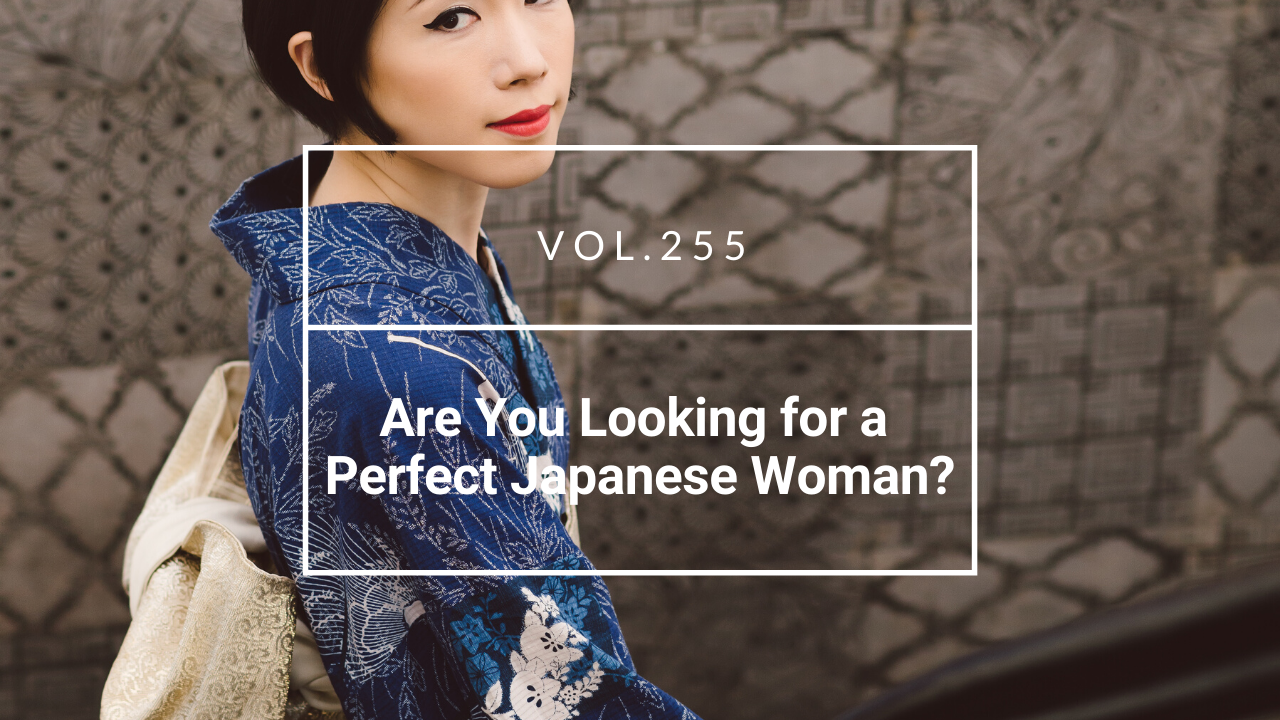 Are You Looking for a Perfect Japanese Woman?
"How soon would you like to marry a Japanese woman. Tomorrow? Within 1 year, 3 years, 5 years or 10 years?"

I often ask this question to our new male members. It may seem like I am joking, but my question plays an important role. I would like to confirm how much energy and focus you can pour into your life project. By asking this question it helps me to confirm how committed and focused you are with this goal of marriage before you start your journey with us.
You may say that how soon you want to marry doesn't matter. Who is the right person matters. However, if you have been waiting for a right woman for more than 1 year, 3 years, 5 years or 10 years, and you are still single, this approach may not be working. Our approach is to focus on the "TIME" aspect first and foremost. Realistically, "TIME" is important. "How soon you would like to marry a Japanese woman?" is not a stupid question, but a necessary question for yourself to accomplish your life project .
Recently, I was shocked to hear that one of our male clients passed away. He was in his 60's and he was NOT too old to get married and start a new life with a Japanese woman. I met him in NYC a few years ago at our Free Consultation in NYC. I met him again three times after that since he seemed very committed to his goal and I wanted to support him as much as I could.
Actually, we were not able to have him as our Full Member since he said that he wanted to meet Japanese women who are in their 30's and he didn't want to have any more children. We explained that it is not easy to meet Japanese women who are in their 30's who don't want any children.
We suggested that we could recommend Japanese women who are in their late 40's to 50's. Still, he wanted to meet Japanese women in their 30's who didn't want children. He didn't want to compromise his preferences, so we couldn't help him.
He passed away before meeting his perfect Japanese woman.
We wish we could have helped him.
What we can learn from his situation and sudden death are as follows.
Are you looking for a perfect woman who is hard to find or may not exist?
Does your commitment take "TIME" into account?
What are the definitions of your Perfect Japanese Woman and are you willing to compromise?
If it has been more than one year since you started searching for your perfect Japanese woman, but you are still single, you will need to reconsider if you are searching in the right market, if you are considering "TIME", and what the definitions of your perfect woman are.
Since we discuss these things with our members, our success rate is very high.
Last week and this week, many of our male members are visiting Japan. It is an ideal season to meet Japanese women as cherry blossoms are fully blooming. We are receiving positive feedback from our male and female members who had arranged meetings in Japan. Some of them have already changed their communication status to "Corresponding". It means that they are getting along and they don't want any more introductions for now.
If you are sincerely looking for a Japanese woman with realistic expectations, it will not be long until you meet your ideal person! We can show you how! Traditional Japanese Matchmakers are available to assist you in finding your perfect Japanese woman! She is here, waiting for you!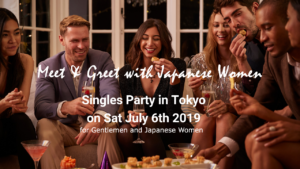 Singles Party in Tokyo on July 6th 2019
If you haven't planned to visit Japan, we recommend to plan on July 6th 2019. We will host a singles Party in Tokyo, so you can meet many beautiful Japanese women in Tokyo in one day. Also we can arrange individual meetings for you. I am sure this is a great opportunity for you if you really want to marry a Japanese woman within a year!
Plese click to signup for TJM's Singles Party in TOKYO 2019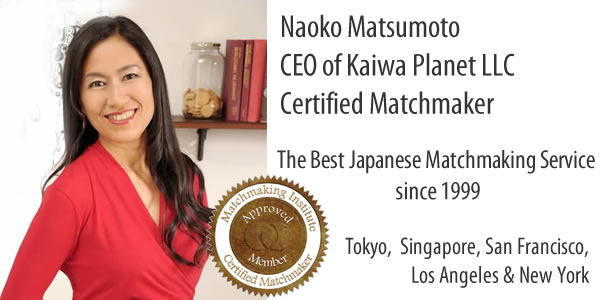 Dating and Matchmaking Service for Single Professionals and Japanese Women Established in 1999
We have been working as professional Japanese matchmakers for 18 years. We look forward to assisting you in finding your Japanese wife. Please click below to make an appointment for a Free Skype consultation if you are truly interested. We are happy to make an appointment with you after you have created your own profile. https://meetjapanlady.com/company.html

Naoko Matsumoto
CEO and Your Personal Matchmaker
Traditional Japanese Matchmaker