Make Your Miracle at TJL's Tokyo Event 2017
Events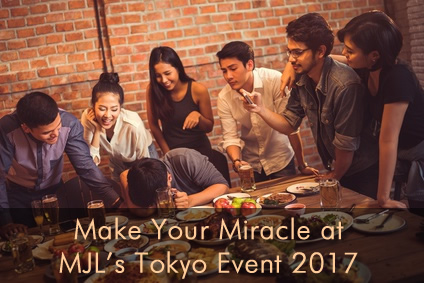 Make Your Miracle at TJL's Tokyo Event 2017
As we announced previously, TJL is hosting its "Meet and Greet with Japanese Women in Tokyo" on July 2nd 2017 at 3-5 pm. The seats for women sold out in one day, and many women are on the waiting list. There are still some available open seats for men who want to attend.
If you are a male member and you are in Japan on July 2nd, you are very welcome to join our event. Please let us know ASAP!! https://meetjapanlady.com/form_tokyo201707/
We appreciate it that our events in Japan are very popular! Also, two of our female members who are already engaged may come and say hello to us at our Tokyo event. This will be amazing and inspiring!
TJL has hosted many types of events all over the world!! We have hosted speed dating events, BBQ parties, and discussion events for both men and women, and also coaching seminars for Japanese women. Our events have taken place in Tokyo, Singapore, San Francisco, Los Angeles, and New York since 2010. We have met many single men and women at our events. At our last event in NYC this year, three happy couples met. This is wonderful news!
Miracles happen all the time at TJL events! That is why it is really important to attend if you truly want to make a positive change in your life and find true love!!!
Your participation in TJL events also helps us to learn who you are which helps us to make better matches for you.
We are looking forward to meeting with you in Tokyo on July 2nd!
https://meetjapanlady.com/form_tokyo201707/
Naoko Matsumoto
Creating Happy Couples for 18 years