The Offer That Successful Men Never Make 
Blog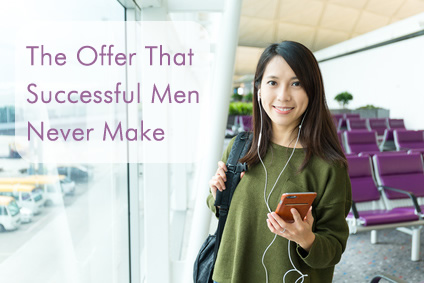 The Offer That Successful Men Never Make 
Some of our male members refuse to visit Japan to meet their candidates, often claiming that they are too busy. We understand that they prefer for Japanese women to meet and visit them by offering to purchase an airline ticket for them.
"I am going to buy an airline ticket for you, so would you please visit me?"
This may sound like a very kind offer from you. However, this is not true. If you have just started communicating with her, she will feel uncomfortable.
Actually, some of our female members who have received this kind of invitation asked us if it is polite to decline the offer. Why? Because they feel like they will be controlled by this valuable gift from men if they accept this offer. It is human nature to want to return a favor when someone gives you something. So, this large gift of an airline ticket will put our female members in an uncomfortable position where they feel that they must return the favor somehow. This situation is unnecessary and that is why we require our men to first visit our female members in Japan. It is a level playing field and it takes the pressure off our female members.
What if she does visit him and she doesn't feel that he is right for her? She will feel very uncomfortable during her visit and may not be able to tell you her true feelings since you spent a lot of money for her to be there. Both a man and a woman have a right to say YES or NO to continue correspondence after their first meeting. We believe that it should be fair.
We always advise our female members that they should not let him purchase an air ticket if they haven't met in person yet. We advise that their first meeting must be in Japan and then if they are in committed relationship they may visit him at his home country.
As you may know, the Japanese economy is still strong, and there are many opportunities for Japanese people to work and earn a living. It means they have enough money to purchase an air ticket if she really wants to meet you in person.
Actually, if they ask you to pay for a ticket, you should be careful: she may have trouble with money or she likes money but not you. We advise you to decline her question.
This is why we recommend that you visit her in Japan first. This is our membership rule, and all of our female members know it. Most of our female members choose us because men come to Japan to meet her in person. This rule is unique and no other dating company requires it. We believe that when you visit Japan, you will give our Japanese female members a good impression that you are a sincere and honest person.
Furthermore, our female members do not trust men who do not consider visiting Japan. Remember, your purpose is finding a happy marriage. In order to make your dream come true, visiting Japan shows her your sincerity, strong desire, and passion. It is much better to show your commitment in your relationship with her by visiting her in Japan, rather than purchasing the airline ticket to let her visit you.
Our successful male members visit Japan a few times a year. Some of them visit Japan every month. We understand that visiting Japan depends on your work schedule, but if you truly are committed to marrying a Japanese woman you will find a way to visit Japan. We believe that coming to Japan is the shortest way to make your dream come true.
If you plan to visit Japan soon, joining our event on July 3rd 2016 would be perfect for you. You will be able to meet some nice Japanese women at one event. Of course, you can communicate with them before the event. We can also setup individual meetings for you.
※Please note that the age range of the women who can attend the event  has changed.

We hope to see you in TOKYO on July 3rd!
Naoko Matsumoto
Founder & CEO of Traditional Japanese Matchmaker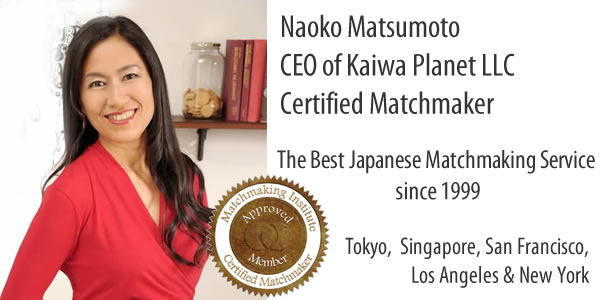 Traditional Japanese Matchmaker is the best dating and matchmaking service in Japan that is specialized for single professionals and Japanese women established in 1999. Please click the link below to sign up for TJM's Free Registration if you are truly interested. We look forward to assisting you in finding your Japanese wife.
Naoko Matsumoto
CEO and Your Personal Matchmaker
Traditional Japanese Matchmaker