Blog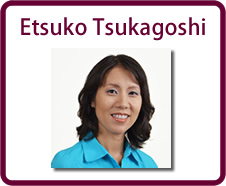 Etsuko Tsukagoshi
In order to create a happy family, many married couples usually go to see a marriage counselor / marriage coach when they face issues.  It is one of the greatest ways to solve their problems between husband and wife. However, generally speaking, it is not easy for a Japanese woman to talk with a typical marriage counselor since it is hard for a Japanese woman to explain her feelings and situations in English and it is not easy for a typical marriage counselor to understand a Japanese woman's thoughts.
Therefore, many international couples decided to divorce or just go back to their country without talking with their spouse deeply or having counseling with a marriage counselor.
The Hague Protocol is one of the international opportunities that may help both international husbands and wives. And, as I introduced earlier, Japan will finally join this agreement starting in April 2014.
I personally recommend Etsuko Tsukagoshi who is an international relationship coach residing in the USA. She established her business, "My Peaceful Family", and helps many couples with their marriage issues, especially western husbands and Japanese wives. She is Japanese, and her husband is American, so she really understands the issues that American husbands and Japanese wives can face. After graduating from Tokyo University, she worked for the United Nations and she has lived in many different countries. Throughout her life experiences, she has learned about the cultural differences between Japanese people and people in other countries.
She can speak Japanese, English and German. If your wife can talk with a coach like her in Japanese, she is more comfortable than talking with typical marriage counselor. And, she helps men too by listening with an open mind and offering her insightful assistance.
I met Etsuko san in Oregon last summer. She is very gentle, open minded and fair. I highly recommend for you to talk with her if you have issues with your Japanese wife or Japanese girlfriend. I hope everything will go well for you!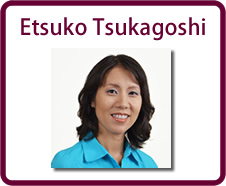 Naoko Matsumoto
Founder & CEO of Traditional Japanese Matchmaker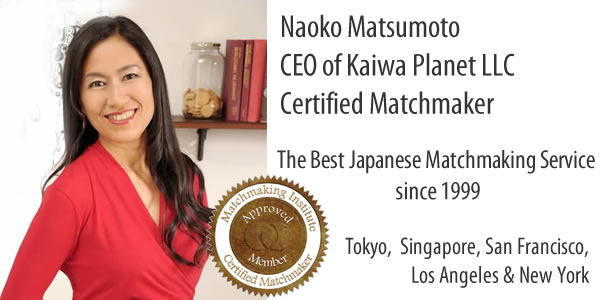 Traditional Japanese Matchmaker is the best dating and matchmaking service in Japan that is specialized for single professionals and Japanese women established in 1999. Please click the link below to sign up for TJM's Free Registration if you are truly interested. We look forward to assisting you in finding your Japanese wife.