Do Not Choose Your Future Wife by Her "APPEARANCE" – If You Want to be Happy, Listen to Your Matchmaker
Blog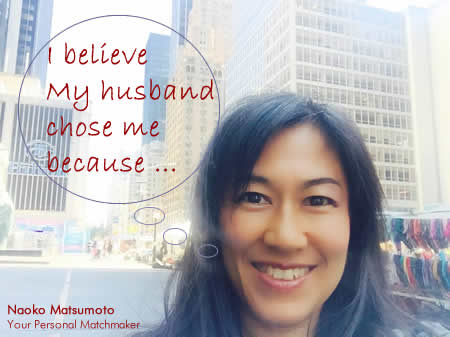 Do Not Choose Your Future Wife by Her "APPEARANCE" – If You Want to be Happy, Listen to Your Matchmaker
"I want to meet a beautiful Japanese Woman!", say most of our male clients. It is only natural that most of our male clients dream of meeting a beautiful Japanese woman as a lifelong partner.
One day, I asked one of our male members,
"Who is your ideal Japanese woman?"
He answered,
"She should be like Kumiko Goto."
If you google her name, you will find photos of the
beautiful perfect woman, Kumiko Goto.
http://bit.ly/1N2MliA
She is a singer and actress in Japan.
She is now over 40 years old, and mom of three children,
however, she is still very beautiful.
Who is the lucky guy who brought down her heart?
He is Jean Alesi, a successful F-1 Racing Driver in France.
Kumiko has lived a happy life with Jean in France
and other European countries since they got married.
They are a perfect couple and their happy marriage is the envy of people in Japan, especially Japanese women who are dreaming of having a marriage like them.
It's Time to Get Back to Reality!!!:
If you are looking for a type of woman like Kumiko Goto,
you will need to consider the following things.
1. Beautiful, model like women expect to meet and marry an a-list man who is very successful, wealthy, and most often very handsome. These men are successful in business, actors, sports stars, and so on.
2. Beautiful women very often require high maintenance:
In order to keep herself beauty, she may need expensive cosmetics, brand name clothing, special care for her skin, and perhaps, cosmetic surgeries. Do you want to pay for these costs in order to make her happy as her partner?
3. Kumiko and Jean have many houses in many different countries. They can enjoy their vacation at any beautiful beach on the planet with first class accommodations and service whenever they want. They hire many maids to take care of their house and drivers for transportation. Do you think you can give her such a lifestyle?
4. Most beautiful women may believe that they are entitled to meet a wealthy and handsome man like Tom Cruise, Brad Pitt, or George Clooney. Jean Alesi is a perfect man for Kumiko. Do you think that you are as successful, handsome, and wealthy as Jean Alesi?
Maybe I am exaggerating things somewhat, however, as a matchmaker, I always gently tell a man who expects to meet a beautiful woman, "Are you a Brad Pitt?" Of course I tell him with humor, and hopefully my words do not offend him.
Realistically, finding a perfect woman like Kumiko Goto is not very likely for everyone. However, it is possible for you to find a special person.
I want all men and women to see each one's inner beauty instead of focusing on people's outer appearance. We all get older gradually, and how you look is always changing. The more years go by, the more wrinkles both of you and she will get. However, you and her inner beauty and personality will not change easily and is something that is most important since it will last a lifetime. Both of you will discover each one's attractiveness day by day if you and she love and care for each other.
Cultivating mutual happiness is required for a long lasting and happy relationship.
Matchmakers believe that if you want to be really happy,
it is best to see her inner beauty.
We are always happy to assist you!
Naoko Matsumoto
Founder & CEO of Traditional Japanese Matchmaker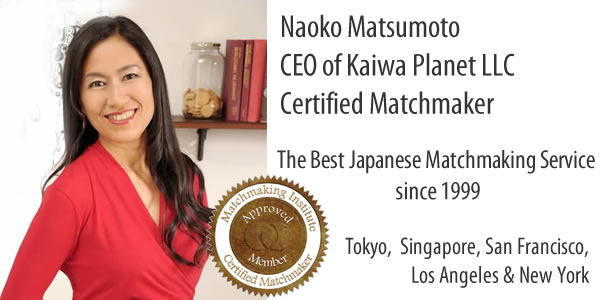 Traditional Japanese Matchmaker is the best dating and matchmaking service in Japan that is specialized for single professionals and Japanese women established in 1999. Please click the link below to sign up for TJM's Free Registration if you are truly interested. We look forward to assisting you in finding your Japanese wife.
Naoko Matsumoto
CEO and Your Personal Matchmaker
Traditional Japanese Matchmaker