Happy Testimonials: David and Satoko's Love Story Begins During the Global Pandemic
Blog
Happy Testimonials: David and Satoko's Love Story Begins During the Global Pandemic
We would like to present the happy testimonial of one of TJM's most joyous and successful couples, David and Satoko. Their story serves as an inspiring blueprint for discovering love in the most unexpected moments.
Congratulations!
We are happy for you!
At 38 minutes, it might seem long, but every second of this video can teach you something about determination, taking action, and seizing the moment. And if you're trying to get a hang of Japanese, this is a fantastic and inspirational way to immerse yourself.
Here is the link to watch the love story of DAVID and SATOKO.
Please Enjoy their heartwarming journey on YouTube!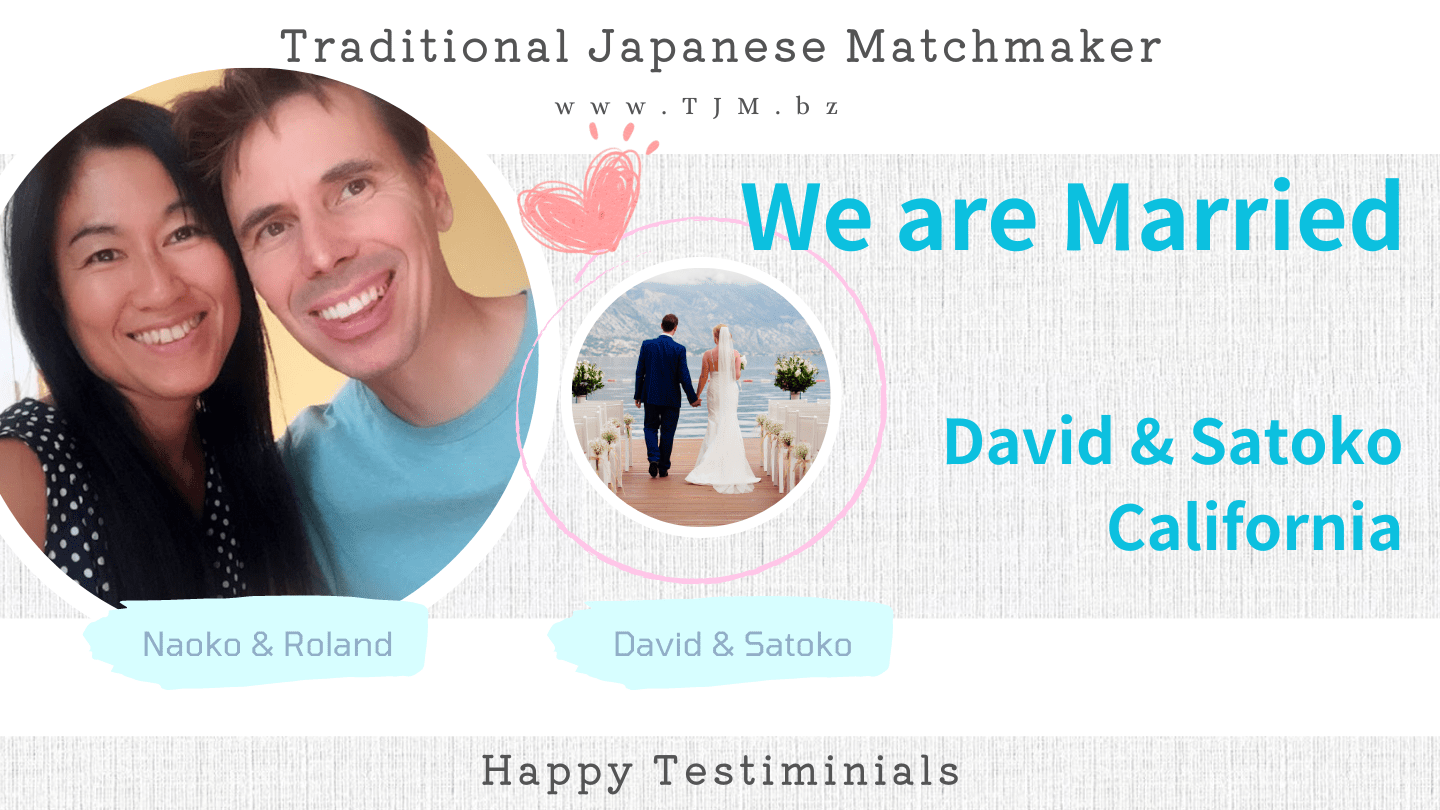 Their love story began amidst a time of global uncertainty: the onset of the COVID-19 pandemic. But let's break down how both of them met.
David's Marriage Search Timeline:
March 6, 2020: The first step with Free Registration
March 11, 2020: Seeking guidance with a Free Consultation
March 13, 2020: Making his intentions clear with a Profile Creation
March 23, 2020: Committing fully with a Full Membership Activation
April 10, 2020: The big leap – Meeting SATOKO
Thereafter: He Focused on Satoko
Satoko's Marriage Search Timeline:
February 16, 2020: Free registration
February 24, 2020: Free consultation
March 14, 2020: Profile creation
March 25, 2020: Full membership registration
April 10, 2020: Matched with David
Thereafter: She Focused on David
As you can see, they began their marriage search and registered with the matchmaking agency at the start of the pandemic. Shortly after being introduced, the two of them committed to each other and continued their relationship with marriage in mind.
In reality, the number of candidates introduced was two women for David and only one man (David) for Satoko.
"Why did things progress so smoothly and quickly, leading to their destined match?"
David mentions with positive thoughts, "Both of us were at home…".
This was his moment to act, despite the world's chaos.
When the pandemic began, many singles aiming for international marriages halted their activities, doing nothing but watching the world's movements. However, among TJM's members, there were those like David and Satoko who saw the pandemic as an opportunity and took bold actions, yielding results.
In these four years, the couple got married and were blessed with a child. And in September 2023, they are expecting their second child.
For both of them, these past four years have been filled with love and happiness, truly a wonderful time.
Now, here's the lesson:
1. Decision-making:
In life, especially amidst crisis, opportunities still exist. Recognize them. SATOKO and DAVID did, and look at where they are now.
2. Taking action:
Don't just wait for the perfect moment; create it. DAVID didn't wait. He made his move, even when the rest of the world paused.
3. Achieving your goals:
By being clear about what you want and pursuing it relentlessly, success isn't just probable; it's inevitable.
This story is a testament. If you're looking for love, especially with a Japanese partner, this could be your playbook. Adapt, evolve, and be brave in your approach.
Towards the end of the video, a statement by SATOKO really resonates: "There's no hesitation. Once you decide to get married, you just move forward." Find your clarity, and let that be the force that drives you.
To all the single gents out there: If DAVID can find his SATOKO during such uncertain times, so can you. It starts with a choice. A choice to act, a choice to believe, and a choice to commit.
So, are you ready to embark on your journey? Let their story be the wind beneath your wings. Wishing you all the best in your quest for love!
Naoko Matsumoto
Founder & CEO
Traditional Japanese Matchmaker (TJM)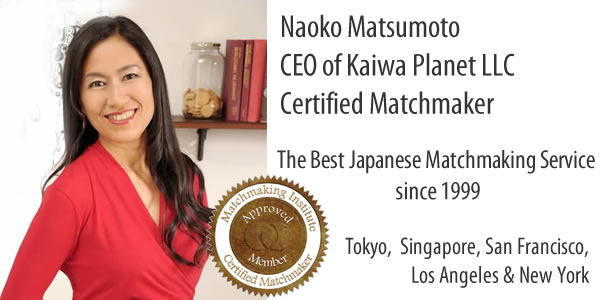 Traditional Japanese Matchmaker is the best dating and matchmaking service in Japan that is specialized for single professionals and Japanese women established in 1999. Please click the link below to sign up for TJM's Free Registration if you are truly interested. We look forward to assisting you in finding your Japanese wife.