We Got Married – Happy Message from a Couple in Georgia
Congratulations!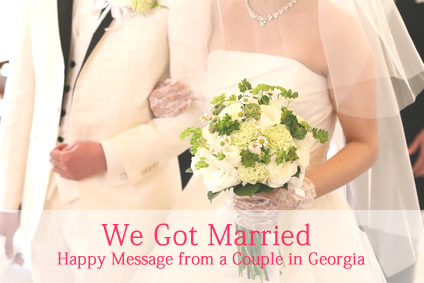 We Got Married – Happy Message from a Couple in Georgia
We recently received a happy message from one of our male clients in Georgia. He met a Japanese woman through our matchmaking service, and they were recently married.
Naoko, Harumi and I were married in June of this year. I have been meaning to tell you. Add us to the list of successful contacts. We knew each other for four years and finally we were able to get married. We feel we cannot live without each other. Thank you very much!

Harumi came to America three years ago to get her B.A. degree in writing. She wanted to be with me and I was not ready for marriage. She lived nearby as we did not live together. I helped her with most of her costs. Then she graduated in December 2016 and went home in early February with all of her belongings. It was then that we realized how we loved each other and seemingly could not live without each other. So I went to Japan in April of 2017 and asked her to marry me in the little cafe she first took me to on our first date four years ago. I appreciate Meet Japan Lady for helping me meet a wonderful woman. The inside of her ring says "Beautiful Harumi."

Best,

Charles in Georgia
Their marriage was a big surprise since their courtship took about four years since he first met her through our matchmaking service. At that time, they may not have had an instant chemistry, but they may have felt some kind of interest or affection, and they have been nurturing their "tiny love" little by little. And then finally it ripened into "true love". Four years was the amount of time it took for them to learn about and to grow their love for each other.
They first met when Harumi was in her late 40's and worked for a big company in Tokyo. I think she is brave because she quit her job and relocated to the US in order to be able to see Charles. She enrolled at a university, which at her age must have been a big decision for her. She took a risk by leaving her well paid job in Japan and thereby ending her career. Nevertheless, she bet her life. She believed that living near Charles' house in Georgia would change her life for the better. And, her bet paid off.
Sometimes it takes time for a couple to be ready for marriage. Creating a wonderful relationship sometimes takes patience. A long courtship can create a strong loving bond that will create a stronger marriage. He is always supportive of her, and she trusts him. Their love is strong. Congratulations on their marriage! Thank you for sharing your wonderful story.
We have been working as professional Japanese matchmakers for 18 years. We look forward to assisting you in finding your Japanese wife. Please click below to make an appointment for a Free Skype consultation if you are truly interested. We are happy to make an appointment with you after you have created your own profile.
https://meetjapanlady.com/company.html
Join us at our next event on July 2018 in Japan.
Pre-Registration
http://beret-ex.jp/fx/18
Naoko Matsumoto
Creating Happy Couples for 18 years