Congratulations! Two TJM Couples Got Engaged!!
Congratulations!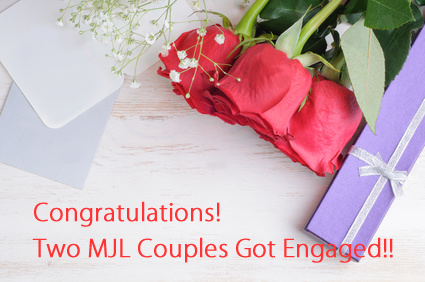 Congratulations! Two TJM Couples Got Engaged!!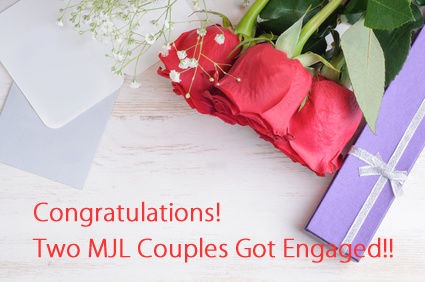 Last week, we received two happy messages of their engagements. Congratulations!
H from South Carolina and K from Tokyo:
We setup their first meeting in the middle of February 2017 in Japan. After their first meeting, they saw each other as many times as possible while he stayed in Japan. They felt chemistry for each other at their first date. They spent many hours getting to know each other during his stay in Japan. He proposed and she accepted. It seemed to happen so quickly, however, this quick proposal can only happen when both man and woman are seriously focused on their goal of "Getting Married". When they are both fully committed to their goal of getting married, and they find the right person, they are able to make a big decision without spending much time for deliberation. I talked with her on skype last week. She said that she had some concerns that may have meant that she would not want to marry him now. However, he always showed special care for her and he was always open minded enough to discuss these concerns with her peacefully. So, they discussed her concerns.
As a result, she realized that they were not big issues, and they were mostly solved with his words. She felt so happy because he was able to openly and amicably discuss and solve their problems. That is the primary reason that she accepted his proposal.
C from Minnesota and M from Tokyo:
He became a member in June 2016. He first visited Japan to have individual meetings with some of our female members in September. After that he decided to focus on one woman. In December 2016, she visited him in Minnesota. They have been communicating and discussing their future vision together since then. He visited her in Japan in March 2017. In the middle of March, many Japanese families have the OHIGAN ceremony which is the memorial service for family ancestors. It was a great opportunity for her to introduce him to her family since family members gather for the OHIGAN ceremony. She accepted his marriage proposal in Kyoto where most of her family members live.
Let me summarize their courtship in chronological order. He took action in June, September, December, and March (6-9-12-3). He seemed to have a method of taking action every three months and his focus and drive was ultimately successful in delivering results.
Taking action in order to achieve your goals is the most important thing you can do. And, the stronger your commitment is, the more pronounced results you will achieve. If you are not sure of what you need to do in order to marry a Japanese woman, please feel free to ask us. Our matchmakers are happy to assist you!
We can tell you that those who get engaged never said, "I am too busy to meet in person." They continually take action until they have made their dreams come true.
"We are so happy for our two newly engaged couples!"
We have been working as professional Japanese matchmakers for 18 years. We look forward to assisting you in finding your Japanese wife. Please click below to make an appointment for a Free Skype consultation if you are truly interested. We are happy to make an appointment after you have created your own profile.
https://meetjapanlady.com/company.html
Also, you are most welcome to join our event in NYC on Sat. April 2nd 2017.
What: Speed Dating with Japanese Women in NYC
When: April 29th 2017; 7-9 pm
Where: Midtown NYC (Details Later)
https://meetjapanlady.com/nyc/
If you are not able to attend this meeting, our next event is in July 2017 in Japan.
Pre-Registration
http://beret-ex.jp/fx/18

Naoko Matsumoto: CEO and Your Personal Matchmaker