Why it is a Mistake to Only Want to Meet Japanese Women Who are Photogenic
Tips for Men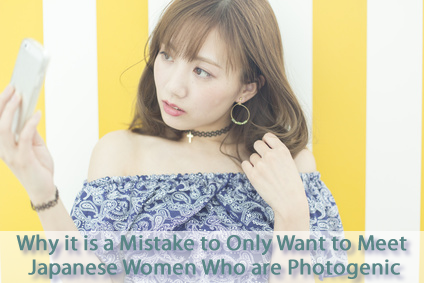 Why it is a Mistake to Only Want to Meet Japanese Women Who are Photogenic
Do you want to select a Japanese Woman only by looking at photos of our female members? We have found that more than 90% of our male clients say "YES!" Everyone wants to meet beautiful women, and we understand. But, choosing your female candidates based solely upon how beautiful they appear in their profile photos is a mistake since you do not see their real personalities in their photos. And, we recommend choosing a woman who has a pleasant personality since this is more important to having a successful marriage than beauty.
Not all women are photogenic although they may be beautiful when you meet them in person. Some of them are very shy and are not confident when having their photos made. Even some of our female members seriously ask us how they can smile like westerners do baring their teeth since in Japan people may not smile showing their teeth.
As a matchmaker, we give our female members basic guidelines on how to make themselves more attractive in order to be selected by gentlemen. For example, we suggest that they wear beautiful dresses in bright colors. Japanese women tend to choose dark and monotone colors, like blacks and greys. They tend to choose designs that cover most of their body parts. We suggest that they choose vivid colors and show their necklines, arms, and waistlines. We used to receive portraits of our female members wearing Kimonos. A Kimono is a traditional Japanese wear that is not for everyday life in Japan nowadays. Kimonos hide most of a woman's body and do not portray the woman as sexy or modern.
We believe that the quality of our female members' photos is excellent. Most of them use professional photographers. The service of a professional photographer may cost more than $300, but they invest in this service in order to show their attractiveness so that they are selected by gentlemen like you! This may sound a bit contrived for men and you may say I want to meet women who does not use makeup but have natural beauty.
However, based upon statistics we can say that more than 90% of our male members choose our female members based solely upon their photos. Often when we introduce women who have a super nice personality, but are not photogenic, men will invariably decline them as their candidate. Therefore, it is necessary for our female members to have high quality photos made of themselves in order for them to be selected by our gentlemen.
TJM's Meet and Greet in TOKYO is a great opportunity to meet real Japanese women in person. You can see and confirm that they are really beautiful. Talking with them in person, you will realize that they really do have nice personalities. If you feel comfortable being with her, you can count on her as one of your candidates even though you didn't think that she was a super photogenic woman in her profile photo.
Seeing is believing. You will discover the beauty of real Japanese women in Japan!
Meet and Greet with Japanese Women in Tokyo 2018
Date: Sat. July 7th 2018
Time: 15:00-18:00
Place: Harajuku Area, Tokyo
Here is the link for the event reservation.
https://meetjapanlady.com/form_tokyo2018/
If you reserve in April, you will receive an Early Bird Discount.
Click to read the details:
https://meetjapanlady.com/lessons/we-are-now-open-for-reservations-for-speed-dating-event-in-tokyo-on-july-7th-2018
Speed Dating Event in Japan on July 7th 2018
If you haven't planned to visit Japan, we recommend to plan on July 7th 2018. We will host a speed dating event in Tokyo, so you can meet many beautiful Japanese women in Tokyo in one day. Also we can arrange individual meetings for you. I am sure this is a great opportunity for you if you really want to marry a Japanese woman within a year!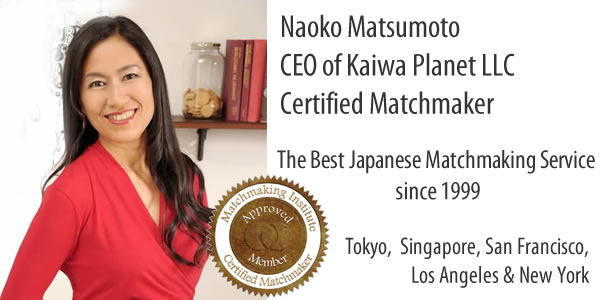 Dating and Matchmaking Service for Single Professionals and Japanese Women Established in 1999
We have been working as professional Japanese matchmakers for 18 years. We look forward to assisting you in finding your Japanese wife. Please click below to make an appointment for a Free Skype consultation if you are truly interested. We are happy to make an appointment with you after you have created your own profile. https://meetjapanlady.com/company.html

Naoko Matsumoto
CEO and Your Personal Matchmaker
Traditional Japanese Matchmaker