Show Your Interest in Her and She Will Be More Interested in You
Tips for Men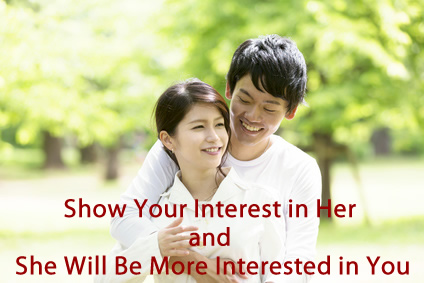 Show Your Interest in Her and She Will Be More Interested in You
During this year's Christmas and New Year Holidays, many of our clients are visiting Japan in order to meet our female members. Some of them come to see her more than one time. We appreciate your efforts. Most likely, it is not an effort, but rather a pleasure and happiness if they get along during their first meeting. Also, some of our female members are planning to visit him as the second step. We encourage our female members to visit him if they both feel chemistry during their first meeting.
I received feedback from one of our female members who met a male member in person. She said that he didn't know anything about Japan. She may have thought, "Does he really want to marry a Japanese woman?" I haven't replied to her yet, but I think she expected that he at least say some greeting words in Japanese such as, KONNICHIWA, OGENKIDESUKA or ARIGATO. I understand her expectation that he would have some interest in Japan and Japanese culture if he says that he wants to marry a Japanese woman.
I understand her, but at the same time, I know that not all of our male members learn Japanese or learn about Japanese culture. For instance, my husband is American, and I am Japanese, but he is not interested in Japan/Japanese culture. I believe that my husband is interested in me as a person. I think it really doesn't matter, but it is true that some Japanese women expect men to have some interest in Japan/Japanese culture.
The most important point that I want to make about this topic is this. Japanese women will feel more interested in you if you show that you are interested in Japan and Japanese culture. So, if you want to start on a positive note when meeting a Japanese woman, it is ideal to show that you can speak some Japanese words and show some understanding of Japanese culture and society. She will reciprocate and show more interest in you and your language and culture. So, I recommend that you learn about Japanese society, Japanese culture, Japanese food, and anything else about Japan. There are many videos about Japan when you google or search for keywords about Japan on Youtube. I think it is worthwhile to learn at least some things about Japan.
Show your interest in her and she will be interested in you!
I bought a German car two years ago. I am Japanese and I love Japanese cars. However, I bought a German car at that time since I wanted to experience owning a German car and my husband was in favor of a German car. I am not sure what the best cars are, but I wanted to show interest in what my husband recommended although I could have said "No, Japanese car is the best."  I chose a harmonious way by showing my respect and interest in my husband's preference and heritage.
What the best car is does not matter to me. The most important thing for me is that my husband feels valued and respected.
Tip for your Success:
Before visiting Japan, we recommend that you learn some things about Japan to share with your Japanese woman. She will be more interested in you as a result since you have showed an interest in her background.
---

Speed Dating Event in Japan on July 7th 2018
If you haven't planned to visit Japan, we recommend to plan on July 7th 2018. We will host a speed dating event in Tokyo, so you can meet manybeautiful Japanese women in Tokyo in one day. Also we can arrange individual meetings for you. I am sure this is a great opportunity for you if you really want to marry a Japanese woman within a year!
Speed Dating Preregistration: Register now, and you will receive the info early.
https://meetjapanlady.com/event.html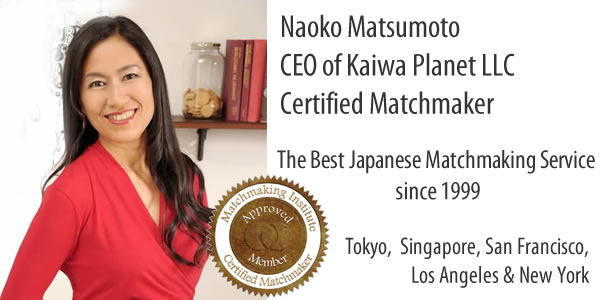 Dating and Matchmaking Service for Single Professionals and Japanese Women Established in 1999
We have been working as professional Japanese matchmakers for 18 years. We look forward to assisting you in finding your Japanese wife. Please click below to make an appointment for a Free Skype consultation if you are truly interested. We are happy to make an appointment with you after you have created your own profile. https://meetjapanlady.com/company.html

Naoko Matsumoto
CEO and Your Personal Matchmaker
Traditional Japanese Matchmaker