Living with a Japanese Woman May Improve Your Health and Longevity
Tips for Men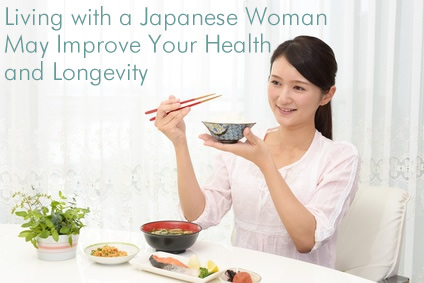 Living with a Japanese Woman May Improve Your Health and Longevity
If you have been a single for a long time and you have not been paying attention to your dietary habits or your health and fitness by dining out, eating fast food 5 days a week, or eating American TV dinners at home alone, we highly recommend that you find a Japanese woman as a lifelong partner right now! Doing so will literally increase your lifespan!
This is one of the most interesting stories of our members that I would like to share with you.
She was tall and skinny, looked like Olive the girlfriend of Popeye the sailor man. The gentleman whom she was engaged to was a very big man: Big man means typical sized American man, but we Japanese feel that he is Very Big. They looked so happy together, however, she was very concerned about his health, as was I.
After a while, they sent us their wedding photos. I could not recognize him at first glance. The gentleman in their wedding photos looked more likely a Hollywood star. I said "Who is this gentleman? Did she find some other man?"
Of course, he was exactly the same man in the engagement photo. What happened to him? I asked her, and she answered. After she relocated to his place, they started a new life together. She decided to adopt healthy Japanese food as their new diet. He changed his bad food habits that he used to have when he was single, and he tried to live healthier. Eating healthy food together with joy and happiness helped him to lose a lot of weight, his body to be healthier, and his appearance to improve a huge amount.
The man in the wedding picture was him, but his body was now amazingly shaped, so no one could recognize that he was the same person.
Here is a statistic from the World Health Statistics: Large gains in life expectancy. http://www.who.int/mediacentre/news/releases/2014/world-health-statistics-2014/en/
You will see that Japanese women always have the top longevity of any country in the world. This likely means that living with a Japanese woman may help to improve your food habits and may lead you to increased longevity!
By the way, my grandmother passed away when she was 99 years old. Now my father is 81 years old and he is still working everyday as a business owner. My mom is going to be 76 years old next month; she goes to swimming class once a week by bicycle. She enjoys walking 3 miles every day. She is concerned about my father's health and cooks healthy low salt, plant based Japanese food every day. They eat breakfast and dinner together with peace and happiness. Our family has never had a microwave. I grew up with my mom's home cooking with a lot of love.
Most Japanese women, who married men outside of Japan, keep their Japanese food habits even though they relocate to their husband's country. Most of them prefer rice and miso soup instead of pizza and soda lunch. Changing your food habit may be challenging for you, however, we recommend that you let your Japanese wife to prepare your food and adopt her eating habits. Your Japanese wife will be happy to cook for you every day. Adopting the Japanese diet will ensure that you are healthier and you will have peace and happiness in your house!
We are always happy to assist you!
Naoko Matsumoto: CEO and Your Personal Matchmaker