How to Be a Good Listener to a Japanese Woman
Tips for Men
How to Be a Good Listener to a Japanese Woman
How to Be a Good Listener to a Japanese Woman

We often receive feedback like this.
"He was so kind and sincere."
" He treated me in a very special way."
"I have never met a gentleman like him before"
Sounds great!
However, she still decides to decline.
She said,
"I don't have a bad impression of him, BUT I do not feel that he is interested in me. During our date he was quiet  and seemed to be a good listener, but I felt like I was doing most of the talking since he didn't say much. I hope he correctly understood my English.
Since my purpose is finding the right person for me, I don't have a strong feeling that he is the right person to share my life with."
It sounds like he is a good listener, but he didn't share enough of himself to make an impression on her. It would have been better if he had showed some kind of reaction to her instead of just listening to her in silence. He could have showed his feelings with his face a little bit more and a big smile always helps. Also, some gestures help her to confirm that you are listening and responding to her. Communication is meant to be interactive and chemistry will often naturally take place between you and her while both of you are exchanging your interests with each other.
After just one date it is often difficult to decide whether to continue or decline. We always encourage our Japanese women to meet him again several times before deciding whether to "decline". We also advise them to tell him how they feel.
After their dates, TJM's matchmakers will discuss with our male and female members during their private consultations including any dating feedback from both of them. Feedback helps you and her (and us!) to learn what things are important during dates. This is one of the biggest differences from online dating compared to our company and it is great for our members' successful relationships.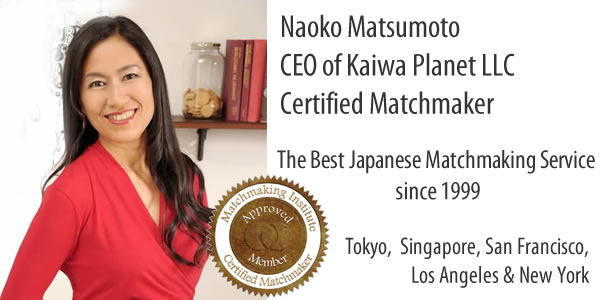 Dating and Matchmaking Service for Single Professionals and Japanese Women Established in 1999
We have been working as professional Japanese matchmakers for 18 years. We look forward to assisting you in finding your Japanese wife. Please click below to make an appointment for a Free Skype consultation if you are truly interested. We are happy to make an appointment with you after you have created your own profile. https://meetjapanlady.com/company.html

Naoko Matsumoto
CEO and Your Personal Matchmaker
Traditional Japanese Matchmaker
Singles Party in Tokyo on July 6th 2019
If you haven't planned to visit Japan, we recommend to plan on July 6th 2019. We will host a singles Party in Tokyo, so you can meet many beautiful Japanese women in Tokyo in one day. Also we can arrange individual meetings for you. I am sure this is a great opportunity for you if you really want to marry a Japanese woman within a year!
Here is the link for the Pre-reservation:
https://canyon-ex.jp/fx2048/event