10 Things That Will Make You Feel More Comfortable When You Visit Japan
Tips for Men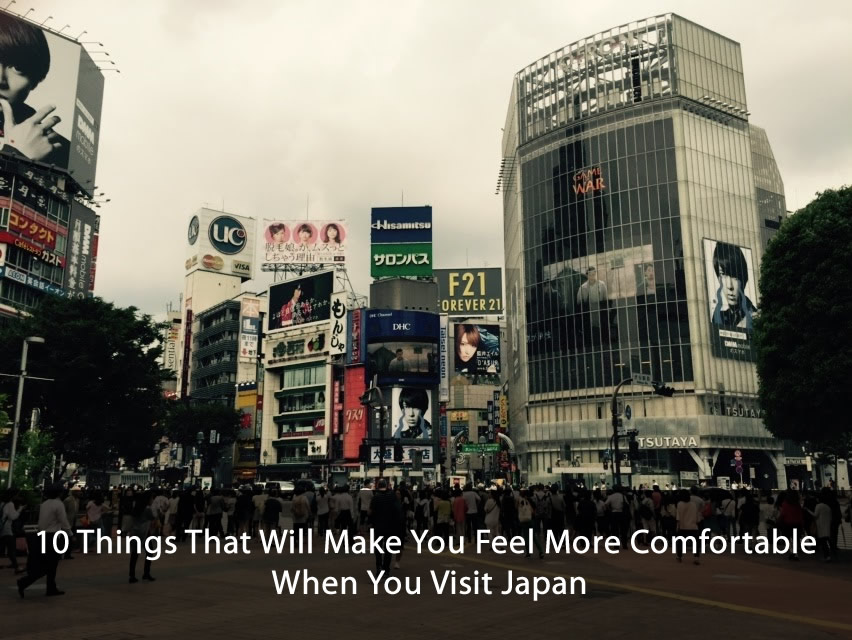 10 Things That Will Make You Feel More Comfortable When You Visit Japan
Traditional Japanese Matchmaker has decided that in order to provide for a safe and successful matchmaking service, we require all male members to visit Japan for the first meeting. This is a unique rule and it helps ensure that our Japanese female members feel comfortable. Some of our male members who have never visited Japan may not feel confident traveling to Japan since they believe that Japanese people do not speak English.
Japanese people may not speak English when you ask questions on the street for various reasons: They are very shy, they are not used to being asked in English, or they are not able to talk in English. However, things are getting better for foreign visitors to Japan since Japan is going to be the host country of Summer Olympic Games in 2020. Here are "10 Things That Will Make You Feel More Comfortable When You Visit Japan."
The street signs and train maps are mostly written in English.
You can purchase prepaid train tickets. Trains and subways are a great transport method in Japan.
Announcements in trains are both in English and Japanese. They announce the name of the next stations in English when you are on a train.
There are shuttle buses that will take you directly to your hotel.
The people at the hotel can speak English. They are friendly and you will experience the greatest hospitality in the world.
Taxi fare in the heart of Tokyo was reduced. If you are lost, simply call a taxi and ask them for help.
Taxi companies are hiring more taxi drivers who can speak English.
Restaurants are making efforts to create English menus.
Most websites for tourists, such as for hotels, museums, and other activities, are translated into English.
Your Japanese dates are happy to help you with your first trip to Japan. She is not a tour guide, but she can answer whatever questions you may have about Japan and its culture.
Today, the Japanese Government has made it a priority that English is taught in school. So, all 3rd grade students start to learn English. When I was a child several decades ago, English Education started in 7th grade. Japanese people are making a great effort to reach the global standard of the wide adoptance of the English language.
Visiting Japan may be a big challenge for you, and you may feel nervous about the different language and culture. However, once you visit Japan, you will experience many positive things! Once you make your decision to visit Japan it will get easier! We are happy to setup individual meetings for you when you visit Japan! You are most welcome to visit Japan to meet your Japanese dates!
We are now open for reservations for TJM's Speed Dating Event in Tokyo on July 7th 2018. We are excited to announce this event in TOKYO 2018. Some of our male members asked about the details of this event since they want to make flight reservations to Tokyo.
Date: Sat July 7th 2018
Time: 15:00-18:00
Place: Harajuku Area, Tokyo
Here is the link for the event reservation.
https://meetjapanlady.com/form_tokyo2018/
If you reserve in April, you will receive an Early Bird discount.
If you would like to know about reasonable hotels near the event place, please let us know your accommodation budget. We are happy to make hotel suggestions for you.
More than 20 Japanese women joined our event last year. You can have meaningful conversations with all female members who join the event. It is a great opportunity for you to meet many nice, single Japanese women in one place. Also, when you visit Japan, we are happy to setup individual meetings for you with our female members if you would like to meet specific women privately.
If your objective is "marriage", we highly recommend for you to join our annual Tokyo Event. Our female members are sincerely looking forward to meeting you at our event!
Speed Dating Event in Japan on July 7th 2018
If you haven't planned to visit Japan, we recommend to plan on July 7th 2018. We will host a speed dating event in Tokyo, so you can meet many beautiful Japanese women in Tokyo in one day. Also we can arrange individual meetings for you. I am sure this is a great opportunity for you if you really want to marry a Japanese woman within a year!
Speed Dating Preregistration: Register now, and you will receive the benefit.
https://meetjapanlady.com/form_tokyo2018/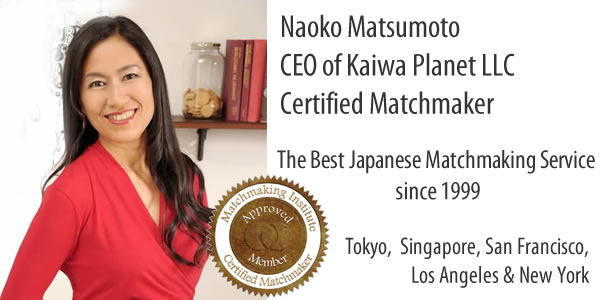 Dating and Matchmaking Service for Single Professionals and Japanese Women Established in 1999
We have been working as professional Japanese matchmakers for 18 years. We look forward to assisting you in finding your Japanese wife. Please click below to make an appointment for a Free Skype consultation if you are truly interested. We are happy to make an appointment with you after you have created your own profile. https://meetjapanlady.com/company.html

Naoko Matsumoto
CEO and Your Personal Matchmaker
Traditional Japanese Matchmaker